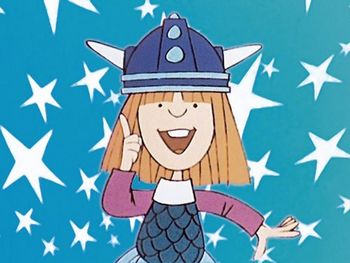 A Swedish book series created by author Runer Jonsson in 1963, with new installments coming out through the 1980's.
Vicky the Viking is about the adventures of the titular character, the only son of the Viking chief Halvar of Flake. Vicky accompanies his father and his crew on their voyages and pillaging sprees, and though he lacks in physical strength, he proves himself useful by using his brains instead of brawn in solving the problems the Vikings face.
An anime series (Chiisana Baikingu Bikke in Japan, and Wickie und die Starken Männer in Germany) was produced by Nippon Animation in 1974. It lasted for 78 episodes, which were dubbed and exported to various countries, particularly Germany.
It was adapted to animation once more as an All-CGI Cartoon in The New '10s by Belgian company Studio 100. This newer series ran for 78 quarter-hour episodes, and has also been broadcast in numerous countries and languages. However, neither show has come to the United States. note Up until now. Recently the original series has been made available to Americans through Amazon, and the newer series is streaming on Netflix
A Live-Action Adaptation was made in Germany in 2009. Speaking of Germany, a whole area is themed after Vicky's world at Europa-Park.
The anime series in particular was an influence on Eiichiro Oda, the creator of One Piece
---
This work provides examples of: