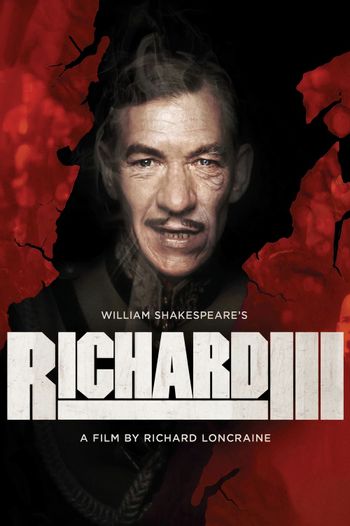 Richard III is a 1995 film adaptation of the play by William Shakespeare, directed by Richard Loncraine and starring Ian McKellen. It was based on an acclaimed Royal National Theatre stage production by Richard Eyre that also starred McKellen.
The film (like the stage production before it) updates the setting to 1930s-era England, creating an Alternate History where Richard Gloucester (Ian McKellen) seizes power from his ailing brother Edward IV, changing the country's leadership into a militaristic Fascist regime, with many overtones of Nazi Germany. It is also notable for making Elizabeth Woodville and her family American, both as a way to modernize the resistance the English establishment would have to the marriage, and to invoke the controversial relationship between Edward VIII and Wallis Simpson during the historical 1930s.
In addition to McKellen, the cast includes Annette Bening, Nigel Hawthorne, Maggie Smith, Robert Downey Jr., Jim Broadbent, and Kristin Scott Thomas. The movie was a major success with critics and audiences alike. Ian McKellen's screenplay, complete with annotations and guides designed to explain his adaptation process, can be read online
. It's an invaluable asset to fans of Shakespeare films.
---
Tropes relating to this film include:
---