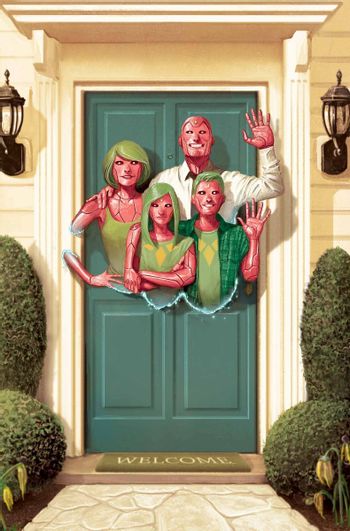 "Vision's quixotic quest for the normal will be the central theme of this book. We will look at how the world reacts to his noble attempt, how that reaction warps him and his family, sometimes for the good and sometimes for the bad. It is a tale of blood and kisses, of brothers and sisters, daughters and sons, husbands and wives, of betrayals and high school and guns and lasers and bureaucrats and Avengers and neighbors and suspicion and robots, red skinned robots peacefully living amongst us, red skinned robots trying to live peacefully amongst us."
— Tom King
The Vision was a twelve-issue 2015-2016 Marvel comic book, written by Tom King with art by Gabriel Hernandez Walta and colors by Jordie Bellaire. It was part of the All-New, All-Different Marvel initiative that rose from the aftermath of Secret Wars.
The Vision is a synthezoid, an "android composed of synthetic human blood and organs." He was created by Ultron to destroy the Avengers, but rebelled against him and instead became one of the Avengers. He has been through many things (even dying), but he has always wanted one thing: to be normal and have a family.
So he built one.
The Vision, his synthezoid wife Virginia and children Viv and Vin have now all moved into a suburb of Washington, DC, where the Vision works. The children go to school, while Virginia stays at home. Everything is fine, everything is normal. Except for the fact that they are not human and everyone knows it. Except for the fact that something very, very bad is going to happen. Or perhaps it has already happened.
Along with King's run on Omega Men and the first arc of Sheriff of Babylon, The Vision forms the "Trilogy of Best Intentions", three of King's works connected by recurring themes.
The Marvel Cinematic Universe series WandaVision adapts elements of this comic book, the most apparent ones being Vision having a married couple life and the Stepford Suburbia setting.
---
Tropes that appear in The Vision:
---