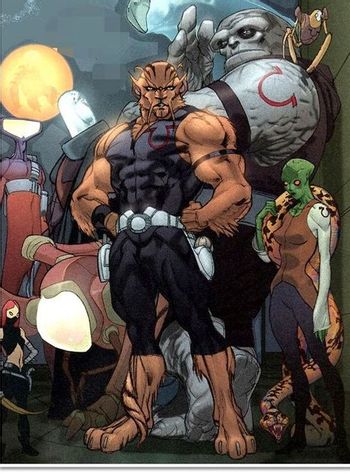 The Omega Men are a team of fictional extraterrestrial characters that appear in various cosmic comic books published by DC Comics. They first appeared in Green Lantern and were created by Marv Wolfman and Joe Stanton. They are often represented as a group of renegades hailing from various planets in the Vega system, fighting against the oppressive Citadel.
Their most recent series, titled The Omega Men, launched in 2015 as part of the DCYou initiative, which emphasized genre diversity and story over continuity. A Sneak Peek containing the series' prologue was made available digitally for free
. The premise of the series sees White Lantern Kyle Rayner captured and apparently executed on public broadcast by a team of rebels calling themselves The Omega Men. The 2015 series is written by Tom King (also known for his work on Grayson) and illustrated by newcomer artist Barnaby Bagenda, and has been acclaimed by critics and fans alike.
Along with The Vision (2015) and the first arc of Sheriff of Babylon, The Omega Men forms the "Trilogy of Best Intentions", three of Tom King's works connected by recurring themes.
The Omega Men contain examples of:
---
Oh lord,

For you shall return, return, return,

And we shall burn, burn, burn,

For we are the low, the cursed, the beggar,

And you are the end, the curtain, the omega...