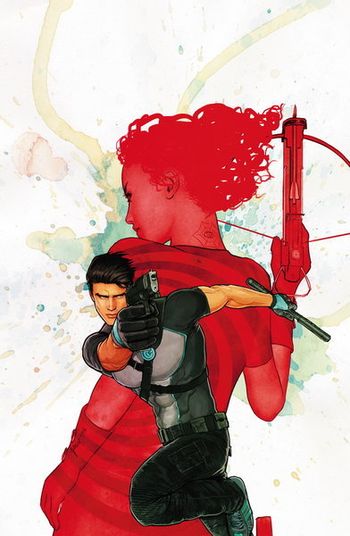 Grayson is a monthly Comic Book series published by DC Comics, started in July of 2014, written by Tim Seeley and Tom King, with art primarily by Mikel Janin. Following the events of Forever Evil, Dick Grayson is presumed dead by most of the world, and Batman takes this as an opportunity to have Dick infiltrate Spyral, an espionage organisation intent on discovering the identities of the world's superheroes. Along for the ride is Helena Bertinelli, who was declared dead in Worlds' Finest, but is instead revealed to be an agent of Spyral.
In March 2016, it was revealed that, as part of the DC Rebirth initiative, Grayson will be spun back off into Nightwing, with Dick returning to his former role, and Tim Seeley will stay as writer. Helena, however, is part of the Batgirl and the Birds of Prey series.
Since this series is spinning out of Forever Evil, spoilers for that series will be unmarked.
Tropes applying to Grayson