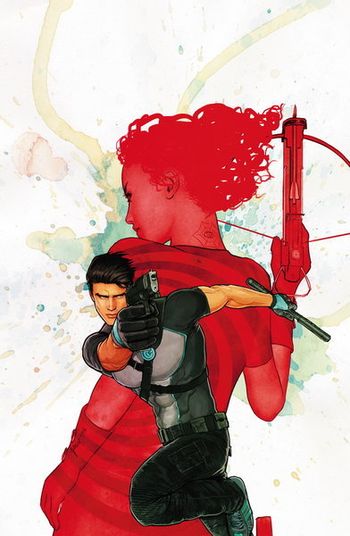 Grayson is a monthly Comic Book series published by DC Comics, started in July of 2014, written by Tim Seeley and Tom King, with art primarily by Mikel Janin. Following the events of Forever Evil (2013), Dick Grayson is presumed dead by most of the world, and Batman takes this as an opportunity to have Dick infiltrate Spyral, an espionage organisation intent on discovering the identities of the world's superheroes. Along for the ride is Helena Bertinelli, who was declared dead in Worlds' Finest, but is instead revealed to be an agent of Spyral.
In March 2016, it was revealed that, as part of the DC Rebirth initiative, Grayson will be spun back off into Nightwing, with Dick returning to his former role, and Tim Seeley will stay as writer. Helena, however, is part of the Batgirl and the Birds of Prey series.
Since this series is spinning out of Forever Evil (2013), spoilers for that series will be unmarked.
Tropes applying to Grayson
Cold Sniper: In the final issue,

Tiger kills Alia with a sniper rifle, while reflecting on his own nature as a murderer

.

"You said I was too kind. That I had lost my nature. That I was no longer a monster. (...) You were wrong,

Alia

."

Color Motif: Played for Laughs. Dick assigns Batgirl the code name "Red", as a reference to her hair colour. Red Hood, who at this point is currently working with Red Robin, sarcastically asks whether other colours exist.
Comedic Sociopathy: The Hood suffers severe injuries whenever he makes an appearance, though his anguish is treated as a non-issue by the other characters. He is nearly killed in issue 2, as one of Bertinelli's students mistakes him for an enemy and shoots an arrow in his direction. Later on, Minos reveals that the Hood lost several of his fingers in a previous mission, implying that they were bitten off and devoured by Poppy Ashemore. Finally, when the Batfamily tries to find a way to hack into Dick's Hypnos, they target the Hood, beat him up, and leave him hanging upside-down from the top of a building.
---