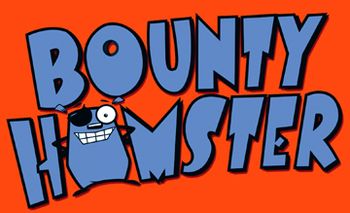 "Meanwhile, on the other side of the universe..."
Bounty Hamster (2003-2004) is a British animated Space Western comedy series.
Teenaged girl Cassie and her father were separated when their space ship was attacked by space pirates; she made it to an escape pod, he didn't. Now, she's off to find him again, with the assistance of the biggest, meanest bounty hunter money can hire — but the biggest, meanest bounty hunter her money can hire is a small, blue-grey, hamster-like critter called Marion, who has enough attitude for several regular-sized bounty hunters but not a lot to back it up with. He does, however, have two special advantages: he has all kinds of useful stuff stashed in his cheek pouches (now, if only he could find what he needed when he needed it...), and he goes into an Unstoppable Rage whenever someone calls him "cute".
Each episode is packed with homages and shout outs to earlier works of animation, science fiction, and comedy — for instance, the episode where Applied Phlebotinum creates seven Marions, one happy, one bashful, one grumpy, and so on.
---
This series contains examples of:
open/close all folders
Tropes #-M
Freaky Friday Sabotage: During the "Trading Spaces" episode, Cassie deliberately initiates a swap with the body surfing villain of the week not long after getting her body back, resulting in the following dialogue.

Hella: Why would you want me to be you again?

Cassie: Because I just handcuffed myself to a pipe.

Camera draws back to reveal she's done exactly that.

Grand Theft Me: "Trading Spaces" is an entire episode full of body-swaps. A criminal steals a body-swapping device and uses it to go joy riding in other people's bodies. Highlights of the episode are Cassie stuck in the body of a humanoid rhino, a body-swap conga line with over half a dozen body-swaps in a row and the criminal, Cassie and Marion all being stuck together in the same body, where they try to beat each other up. The insanity ends with the criminal's mind trapped inside of a cactus.
Hair of Gold, Heart of Gold: Cassie always does the right thing and gets angry with Marion when he doesn't. She was also able to ask a question of the All-Seeing Chin, that only answers those pure of heart, and it does.
Meaningful Name:

Marion is a homage to the character played in the 1969 film True Grit by John Wayne, whose real name was Marion Michael Morrison.
Cassie is short for Cassiopeia, named after the constellation. Her surname is Harrison, after Harrison Ford.
Mirror Universe: In "Twin Cheeks", Marion and Cassie meet their counterparts from an alternate universe where Cassie is a hardened bounty hunter and Marion is a criminal she's pursuing.
Missing Mom: Cassie's mother does not appear, even in Cassie's fantasy in "Wish You Were Here" where she's reunited with her father. According to Word of God, Cassie's mother is dead, and the Lotus-Eater Machine chose not to bring back someone Cassie knew was dead in order to maintain the illusion that it was real.
Tropes N-Z
Too Dumb to Live: In "Somewhere That's Green", while Marion is trying to hang up a banner he accidentally steps on a button that ejects all their food supply. When Cassie asks him, he demonstrates by pushing the button again and ejects all their water supply.
Training the Peaceful Villagers: Parodied in "The Good, the Bad, and the Adorable", most notably in the scene where the cute alien villagers decide that the best solution is to steal their saviour's spaceship and run away en masse.
Wretched Hive: They keep visiting these. Golgotha 13, in particular, is described in this way, out loud, leading to an angry mob chasing Marion and Cassie.
You Are Already Checked In: Subverted when Marion is impersonating a famous hotel critic as part of a Zany Scheme. The real critic turns up at the front desk, demanding his usual room... but the steward is away from the desk at that precise moment, so Marion grabs the critic, stuffs him in a cupboard, and nails the door shut.
Younger Than They Look: Cassie looks and sounds like she's in her late teens, but she's actually 13.
---