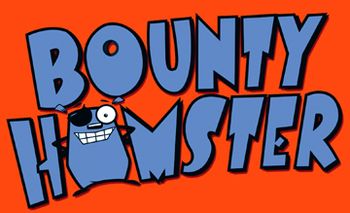 "Meanwhile, on the other side of the universe..."
Bounty Hamster (2003-2004) is a British animated Space Western comedy series.
Teenaged girl Cassie and her father were separated when their space ship was attacked by space pirates; she made it to an escape pod, he didn't. Now, she's off to find him again, with the assistance of the biggest, meanest bounty hunter money can hire — but the biggest, meanest bounty hunter her money can hire is a small, blue-grey, hamster-like critter called Marion, who has enough attitude for several regular-sized bounty hunters but not a lot to back it up with. He does, however, have two special advantages: he has all kinds of useful stuff stashed in his cheek pouches (now, if only he could find what he needed when he needed it...), and he goes into an Unstoppable Rage whenever someone calls him "cute".
Each episode is packed with homages and shout outs to earlier works of animation, science fiction, and comedy — for instance, the episode where Applied Phlebotinum creates seven Marions, one happy, one bashful, one grumpy, and so on.
The series is available on the Bogglesox TV YouTube channel
.
---
This series contains examples of:
open/close all folders
Tropes #-M
Tropes N-Z
Too Dumb to Live: In "Somewhere That's Green", while Marion is trying to hang up a banner he accidentally steps on a button that ejects all their food supply. When Cassie asks him, he demonstrates by pushing the button again and ejects all their water supply.
Training the Peaceful Villagers: Parodied in "The Good, the Bad, and the Adorable", most notably in the scene where the cute alien villagers decide that the best solution is to steal their saviour's spaceship and run away en masse.
Turned Against Their Masters: In "Mutiny on the Bounty Hamster", Cassie and Marion are trapped on a space liner where the robot staff have revolted.
Unstoppable Rage: Marion's reaction to being called cute.
Used Future: The "other side in the universe" is generally kind of scuzzy, and Marion's ship in general looks decidedly fourth-hand.
Wretched Hive: They keep visiting these. Golgotha 13, in particular, is described in this way, out loud, leading to an angry mob chasing Marion and Cassie.
You Are Already Checked In: Subverted when Marion is impersonating a famous hotel critic as part of a Zany Scheme. The real critic turns up at the front desk, demanding his usual room... but the steward is away from the desk at that precise moment, so Marion grabs the critic, stuffs him in a cupboard, and nails the door shut.
Younger Than They Look: Cassie looks and sounds like she's in her late teens, but she's actually 13.
---