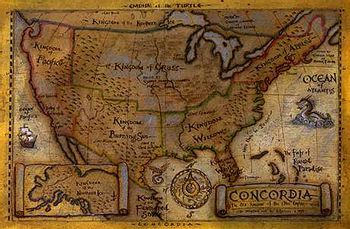 A Storytelling Game of Modern Fantasy.
The tabletop roleplaying game Changeling is the Lighter and Softer aspect of the Old World of Darkness, and has a lot less angst and death. Which got it a lot of derision from players of the other World of Darkness game lines. Changeling: The Dreaming borrows heavily from Neil Gaiman's The Sandman and Neverwhere.
In Changeling, players take on the role of a Changeling Fae - a faerie who has been reincarnated into a human body as protection from Banality, a force representing the loss of humanity's capacity to dream and believe in magic. Faeries are children of the Dreaming, a supernatural force/parallel universe representing the combined creativity, stories, hopes, dreams and emotions of mankind, both good and bad. The Age of Enlightenment forced most Faeries into hiding because of the rise of industrialisation and Faeries band together to eke out an existence trying to bring Glamour and magic back into the world. (Interestingly, it was the moon landing in 1969, not Woodstock, which brought about such a surge of Glamour that it threw open the closed Gates of Arcadia, if only for a moment, and allowed the disappeared fairy nobility, the sidhe, to re-enter the world of mortals. Where they were stuck in mortal bodies afterwards.)
Changeling: The Dreaming is a work of split opinions. Some people think it a great Urban Fantasy game that provides a little light in the rest of the World of Darkness; others view it as a game that's too simplistic in its themes (see: Growing Up Sucks) and sometimes twee to a fault. It doesn't help that the game line itself has so many ways to go, you have little idea what the authors want—a fable on the death of childhood innocence? A game of raging against the dying of the light? An urban fantasy game about balancing the fantastic and the mundane? The commonly derided "bear and balloons" illustration near the start of the 2nd edition core book didn't exactly help matters.
The sequel for the New World of Darkness, Changeling: The Lost, is a Darker and Edgier take on it where Changelings are the more traditional sort of humans that have been kidnapped by The Fair Folk and have managed to escape their clutches. While Lost can be as divisive as Dreaming, it is at least clear about the authors' direction. The tone of Changeling: The Dreaming and Wraith: The Oblivion were basically swapped in the new World of Darkness for Geist: The Sin-Eaters and Changeling: The Lost.
Elsewhere in the NWoD, Beast: The Primordial takes up the "living dream" concept from Dreaming, with Beasts being living nightmares who don't have to worry about disbelief.
A 20th anniversary edition of Dreaming was announced at GenCon 2014. A Kickstarter for the core book went live on December 10, 2015, and was fully funded within hours.
It went on sale to the public in September 2017.
---
This game features examples of:
---