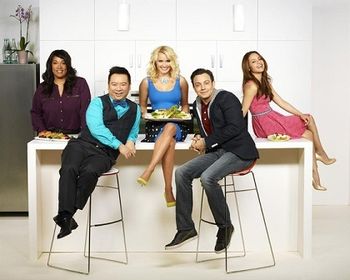 Young & Hungry is a 2014 sitcom comedy show airing on ABC Family, with Ashley Tisdale as the executive producer. It is partially based on the life of Gabi Moskowitz, a food blogger who runs BrokeAssGourmet.com.
It stars young food blogger and poor woman Gabi Diamond (Emily Osment) becoming the new personal chef for the young tech millionaire Josh Kaminski (Jonathan Sadowski). Alongside the two main characters are Gabi's best friend and ambitious banking intern Sofia Rodriguez (Aimee Carrero), Josh's gay personal publicist Elliot Park (Rex Lee) and housekeeper Yolanda (Kym Whitley).
The premise of the story is about food blogger Gabi finding a job as the personal chef for Josh in order to get out of poverty with her friend Sofia. Using some incredible skills that allow her to tell what people around her would like to eat the most, she proves herself to Josh (with a simple grilled cheese sandwich he found exquisite). Unfortunately, Josh's aide Elliot would rather prefer Josh to have a famous chef instead of an unheard of blonde girl like Gabi, so she decides to truly prove herself to Josh, while also avoiding any personal feelings and advances she develops for him with their ridiculously high chemistry. Played for Laughs.
The series was a moderate success and ran for five seasons before being cancelled. A Poorly-Disguised Pilot for a Sofia-centric spin-off aired in season four, but was not picked up. A series finale move was announced shortly after the show as cancelled, but that also never panned out.
---
Young & Hungry provides examples of: