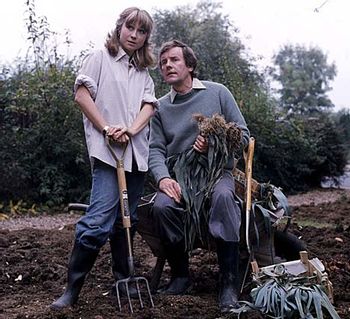 "Mozart and Mendelssohn were dead by forty. Why aren't you?"
The opening line from the first episode (Tom reading the dedication from a birthday card).
1975 Brit Com about a married couple, Tom and Barbara Good (Richard Briers and Felicity Kendal), who decide to give up the rat race and become completely self-sufficient. On his 40th birthday, Tom Good gives up his job as a draughtsman in a company that makes plastic toys for boxes of breakfast cereal. Their house is paid for, so he and his wife decide to live a sustainable, simple and self-sufficient lifestyle while staying in their home in Surbiton. They dig up their gardens and convert them into allotments, growing fruit and vegetables. They buy chickens, pigs, a goat and a rooster. The Goods generate their own electricity, attempt to make their own clothes, and barter for essentials which they cannot make themselves.
Their actions horrify their conventional, and conventionally materialistic, next-door neighbors, Margo and Jerry Leadbetter (Penelope Keith and Paul Eddington). Well, they horrify Margo. Tom's friend and former colleague Jerry is mostly just bemused. Hilarity Ensues. Notable for being a sitcom about sustainability before sustainability was a common topic of discussion.
Came ninth in Britains Best Sitcom. Also famous for Vyvyan's passionate rant about how much he hates it in The Young Ones.
Known as Good Neighbors in the US because NBC had an unrelated one season series also called The Good Life a couple years before.
---
This program provides examples of:
---