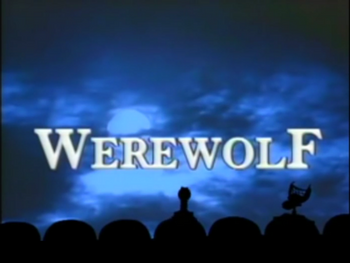 Film watched: Werewolf. Since the episode aired in 1998 and the film was released in 1996, it represents the newest film the show had ever riffed in its original run. For a good couple decades it was either beaten or not by Future War depending on whether you count production period or release date, but the debate was rendered academic with the inclusion of 2013's Atlantic Rim in the revival series.
The Segments:
Prologue
The Bots are tormented by Mike, who believes he's James Lipton and Crow's Ray Liotta.
Segment 1
Mike gets conked on the noggin, sending him back to normal. He enacts his escape plan, but end up at Castle Forrester during breakfast time.
Segment 2
Inspired by Joe Estevez in the film, Mike and the Bots showcase the lesser known siblings of famous people.
Segment 3
Mike and the Bots sing the classic doo-wop ditty "Where, Oh Werewolf", about a werewolf boyfriend.
Segment 4
Mike turns into a Were-Crow, after falling on Crow in the theater. The two Crows are delighted with each other while Servo is disgusted.
Segment 5
Servo got the essence of Mike to turn him back to normal, but spilled some and slightly turned to a Were-Mike. Down in Castle Forrester, Pearl begins experimenting with werewolves, starting with a peasant and a big adorable dog.
---
---
---