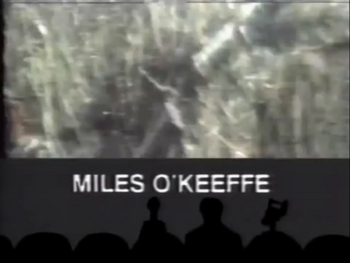 Film watched: The Blade Master aka Cave Dwellers
Like Pod People, this film featured an opening credit sequence that took scenes from a different movie. O'Keeffe was allegedly amused by the show's take on the film and called Best Brains (MST3K's production company) to personally request a copy of the episode. It is one of the most popular episodes of the series. The MST3K version of the movie is available in both VHS and DVD formats. This movie is often cited as the movie you want to introduce somebody to the concept of MST3K and riffing on movies in general.
Compare with Deathstalker and the Warriors From Hell and Quest of the Delta Knights. The Rifftrax and revival series also riffed the original film Ator the Fighting Eagle.note If you're wondering why they went straight to the sequel, it's likely due to the first film having a ton of rape and quasi-incest material.
It is available on Shout! Factory TV here
.
The Segments
Prologue
Joel and the Bots come up with new names for themselves. Favorites include Stockard Channing, Jose Jimenez, Sugar Magnolia and Chuck Woolery.
Segment 1
For this week's inventions, Joel comes up with the Smoking Jacket after noting that Smoking Is Cool but its health effects aren't. The Mads engage in robot arm wrestling while the SOL cheers on.
Segment 2
Dressing up as characters from today's film, Joel and the Bots make their own Film Ventures International-style opening credits.
Segment 3
As the Bots ask Joel about the special names for the lame weapons, he explains the power of Mundane Made Awesome descriptions.
Segment 4
The Bots also question the sound effect choices of film, to which Joel segues to a Foley demonstration.
Segment 5
Crow angrily analyzes out the continuity problems of today's film to the Mads.
---
---
---