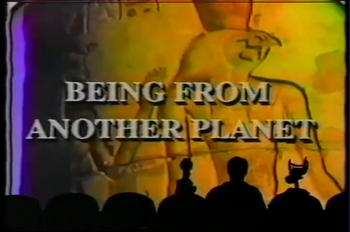 Film Watched: Time Walker aka Being From Another Planet.
The first MST film to feature actor Ben Murphy, who would later appear in a later episode, Riding with Death.
The episode can be streamed here
.
---
The Segments:
Prologue
Crow and Servo play twenty questions to Joel, trying to guess with movie taglines.
Segment 1
The Mads jump on the saccharine figure bandwagon by introducing their line of "Tragic Moments" figures, bringing sadness and death to Grandma. Joel's contribution are Jack Palance Impersonation kits, perfect for attention grabbing and scaring friends.
Segment 2
Dressed as mummies, Crow and Servo's riffing turn to making fun of Bill Mumy, whom Joel defends.
Segment 3
Crow shows a blindfolded Joel the haunted boiler room experience.
Segment 4
Joel cues up his Rainy Day Fun Sketch for Crow and Servo, bored from today's film. The fun doesn't last for long.
Segment 5
As pitchmen for the "TV's Frank Shopping Network", Joel and the Bots sell the "V-Shaped Diamond Encrusted Mummy Thing" in exchange for their freedom. Frank seems to like it, but Dr. Forrester makes him push the button.
---
This episode has examples of:
---
---