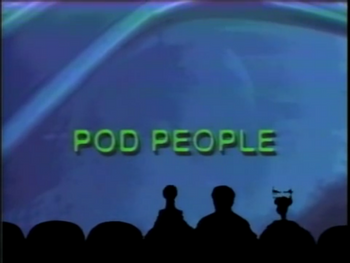 "Your film today is called
Pod People
. It has nothing to do with pods, it has nothing to do with people, it has everything to do with hurting."
—Dr. Forrester
Film watched: Pod People
Naturally, this trainwreck provided perfect fodder for a thorough riffing by the Mystery Science Theater 3000 crew. In particular, much fun was had at the expense of the fictional pop band's performance of "Burning Rubber Tires"
, whose unintelligible lyrics prompted Joel and the bots to misinterpret the chorus, "Hear the engines roar now", as "idiot control now", among others. In addition, the lead singer's after-song gesture of making the OK sign, smiling and saying, "It stinks" became a recurring in-joke. (The OK sign makes more sense in Spain, where the film was produced, because there, the gesture is similar to "the finger".)
The episode is available in the Gizmoplex here
.
---
The Segments:
Prologue
The Bots start up the episode by performing their one bot shows, with Servo as the son of a poor Filipino merchant.
Segment 1
Segment 2
Joel and the Bots perform "Idiot Control Now". It stinks.
Segment 3
Crow gets introduced to the wide world of new age music with Joel's wall of synths. They perform as "Music From Some Guys in Space".
Segment 4
"Trumpy" does magic things on the bridge, while the Mads are understandably confused.
Segment 5
While packing for a future experiment, Joel sings about the "Clowns in the Sky". The Mads think it stinks.
---
The Mystery Science Theater 3000 presentation has examples of:
---
---