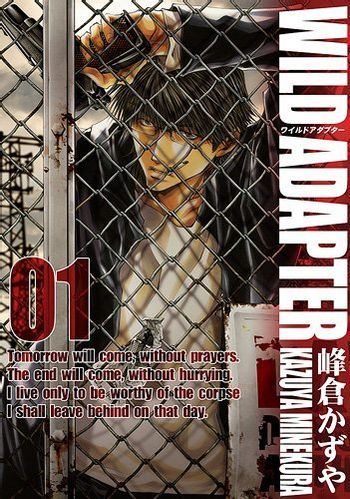 "The more human we become...the more animalistic we are."
—Ryunosuke Akutagawa, Words of a Dwarf, quoted in chapter two.
A noir series from Kazuya Minekura (Saiyuki), Wild Adapter follows Anti-Hero Kubota Makoto and Tokito Minoru, the amnesiac stray cat he picked up, as the two play video games, help people, and investigate a mysterious new drug on the streets: Wild Adapter.
The series originally ran from 2000 to 2008 in Chara. It went on hiatus after forty-six chapters due to Kazuya Minekura's health, as well as Creative Differences between the seinen tone of the series and the magazine's shounen-ai demographic. It was collected in six volumes (with five chapters left over), translated by Tokyopop in North America and Chuang Yi in Singapore. In 2011 the rights to the series were acquired by Ichijinsha (home of Saiyuki), and irregular serialisation resumed in Zero Sum Ward in 2013. An OVA of volume six was released in 2014.
Volume 7 was released in Japan in July 2015, after a seven-year hiatus.
---
Wild Adapter provides examples of:
---
Episodes of Wild Adapter provide examples of (spoilers ahead):
Volume One
Adopt the Dog: After the violent deaths of two stray cats

and Komiya

, and expecting someday to meet the same end himself, Kubota chooses to care for another one: Tokito.

Kubota: "I took in a cat. He's big for a stray. He looks like he'll be a lot of trouble. But he also looks like a tough one. This time I'm thinking I'll be the first to die. . . He felt heavy, that little cat."

Died in Your Arms Tonight: Though Komiya loses his sample of W.A. in the assault, he manages to drag himself to Kubota's doorstep to deliver the motivational speech that drives Kubota out of Izumo.
Establishing Character Moment: Kubota's 'job interview' with Izumo requires him to execute the incumbent with a gun that might backfire. He complains about the noise.
First-Person Peripheral Narrator: Komiya.
Pet the Dog: Komiya discovers his devotion to Kubota after helping him to bury a stray cat. Kubota is also literally petting Sanada's dog when he tells him that he likes animals, but isn't interested in people.
Prolonged Prologue: The entire arc establishes Kubota's character before meeting Tokito; Tokito doesn't even show up except in the Book-Ends.
Roaring Rampage of Revenge: Upon leaving the yakuza

in compliance with Komiya's dying wishes

, Kubota does One Last Job for Izumo: shooting and beating to death the leader of the Tojou-gumi and twelve of his employees and burning down their headquarters. He gives an Ironic Echo of his comment about burying the second stray cat: "Since I couldn't do it that last time. . ."
Volume Two
Volume Three
Volume Four
Volume Five
Volume Six
Volume Seven
---