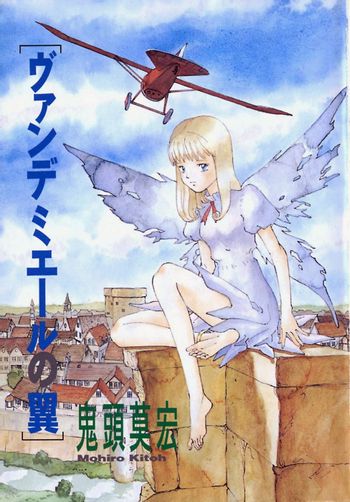 "God's creations need no wills of their own... they should listen to the voice of god."
— The Priest
Wings of Vendemiaire (Vendemiaire No Tsubasa) is the debut manga by mangaka Mohiro Kitoh, who later went on to create the better known Shadow Star and Bokurano. It is a collection of short stories involving six mechanical puppets that were built to resemble young girls, known as Vendemiaires. It takes place in France both before and after World War I, and starts off when Ray, a young boy, meets Vendemiaire #1 for the first time.
The manga ran in the seinen magazine Monthly Afternoon from 1995 to 1997, and was compiled into two volumes.
---
This manga provides examples of:
Hoist by His Own Petard: Brumaire tries to get Vendemiaire #4 into trouble by teaching her to kill a rabbit who has been trapped in order to end its suffering.

Vendemiaire #4, having observed Brumaire in order to imitate her, notes that Brumaire is miserable from the good-girl expectations her father has laid upon her and her hatred for being trapped in the town they live in, and ends her suffering by smashing her head with a rock and rendering her a vegetable utterly dependent upon her father's care

.
Weapon Specialization: A whip is the circus ringmaster's favourite weapon, he is seen destroying one of his artificial humans and cutting Vendemiaire #1 in half with it.
---