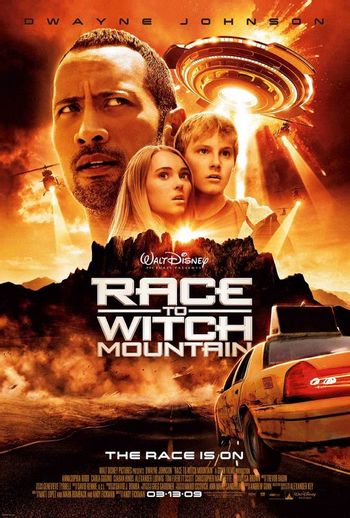 Sara: My brother and I... We are not from your planet.
Jack: Well you don't look like aliens.
Sara: What does an alien look like?
Jack: You know what aliens look like! They're little green people with antennas and "Take me to your leader, Earthlings!"
Race to Witch Mountain is a 2009 Disney action film starring Dwayne Johnson. It is a remake/reboot of the Witch Mountain movies from The '70s (Escape to, Return from, and Beyond) and their own 1995 remake. The story consists of two aliens (who look just like human teenagers) crash landing on Earth. The Government takes their ship to a top-secret research facility, Witch Mountain. From there the two aliens, Seth and Sara, hail a cab, brandish a large wad of money, and tell the driver, Jack Bruno (Johnson), to go "that way". The three quickly find themselves in a race to reach Witch Mountain to recover the spaceship and escape, all while evading the forces of government agent Burke (Ciarán Hinds) and the Siphon (Tom Woodruff Jr.), a dangerous alien assassin assigned to eliminate the twins.
---
This film includes examples of:
What Happened to the Mouse?:

Treating the 90% of Your Brain line as a Chekhov's Lecture, Sara gives Jack a 'parting gift' by apparently touching a hand to his head... we never see what effect this had.
For those of us who actually paid attention to the scene, we notice that Sara's last words before she left didn't actually include her mouth moving.

This also pays off when you consider in the credits sequence that Jack and Alex have Junkyard with them, and he's remarkably well-behaved. Jack also being telepathic now would explain this.

You Are Not Alone: For both Jack and Alex, and (in-universe) for the people of Earth itself.
---