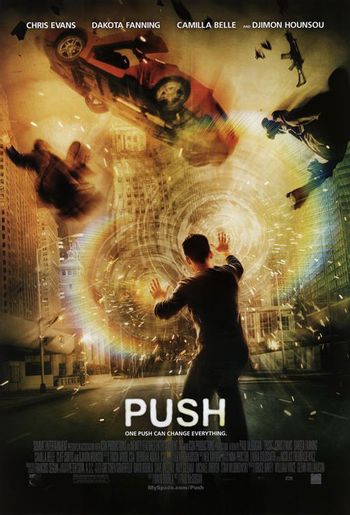 A 2009 movie about Nick (Chris Evans), a man who lives in perpetual fear of Division - a worldwide agency of major governments whose goal is to train and employ psychics for governmental use. Not content with their normal levels of power, the US branch of Division has been testing a drug to boost psychic abilities. Only one person, Kira (Camilla Belle), has been able to survive this drug, and she quickly escapes with a sample after the first test of the drug on her.
When a 13-year-old precognitive girl named Cassie (Dakota Fanning) tracks down Nick in Hong Kong and makes him an offer he can't refuse, the two team up to track down Kira and the stolen sample with the hope that finding it will help them bring down Division.
A short comic series was also created, but any further entries in the series are unlikely due to the movie's generally poor performance and reception. There was a television series
in development being written by David Hayter at some point in 2010, but the lack of updates since then means it has fallen victim to Development Hell and is effectively cancelled.
If you're looking for the 1996 novel of the same name that was made into the 2009 movie Precious, click here.
---
This movie provides examples of:
---