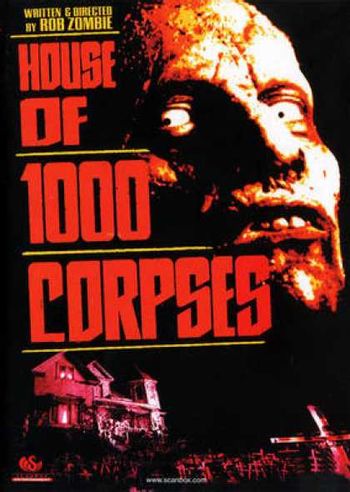 House of 1000 Corpses is a 2003 exploitation horror film written and directed by Rob Zombie. It is his directorial debut. It was released in the United States on April 11, 2003, by LionsGate Entertainment.
Two young couples are in a field writing about strange and offbeat roadside attractions. On their journey, they meet Captain Spaulding (Sid Haig), who tells them the legend of Dr. Satan, finishing by telling them about the tree from which he was hanged. Excited by the story, they continue in search of the tree in question, picking up a hitchhiker named Baby (Sheri Moon Zombie) along the way. When their car breaks down, Baby invites them to her house; but they are about to discover some very dark secrets lurking in the Firefly family...
House of 1000 Corpses was followed by The Devil's Rejects in 2005 and 3 from Hell in 2019, continuing the saga of the Firefly family.
---
House of 1000 Tropes:
---