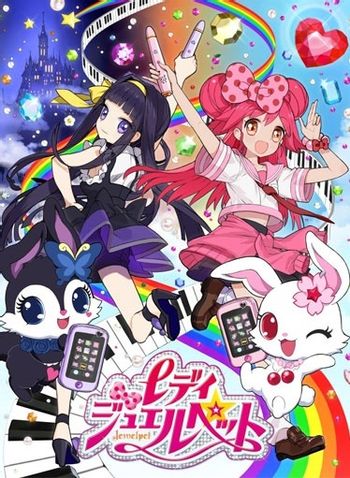 "Each and every girl can shine."
— Lady Diana
Lady Jewelpet is the sixth entry in the Jewelpet anime.
Momona is attending the wedding of her beloved cousin. His bride is a mysterious woman named Diana, who, upon meeting Momona, transports her to the frozen vicinity of a palace. Right away, Momona meets the Jewelpet hare Ruby and obtains a Magical Letterpen; all this indicates that she has been chosen to become a member of the Petit Ladies, young girls who study in the Jewel Palace to learn the ways of a Proper Lady in hopes of someday becoming the greatest Lady and queen of Jewel Land, Lady Jewel.
On her first day, she meets her romantic interest, Cayenne, and a remarkably cold but very talented Petit Lady named Lillian who immediately declares Momona her rival. She also quickly finds friends in fellow Petit Ladies Mizuki, a tomboy, and Charon, a shy bookworm.
---
Tropes include:
---