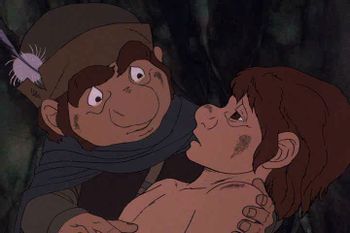 "It's so easy not to try
Let the world go drifting by
If you never say hello
You won't have to say goodbye."
The third film in a loose trilogy of animated films based on J.R.R. Tolkien's Middle-earth stories, The Return of the King is Rankin-Bass's adaptation of the third The Lord of the Rings volume of the same name. The film serves as a follow-up to their earlier adaptation of The Hobbit, and as a conclusion of sorts to the Ralph Bakshi adaptation of The Lord of the Rings, which covered The Fellowship of the Ring and most of The Two Towers.
---
The Return of the King: provides examples of:
---