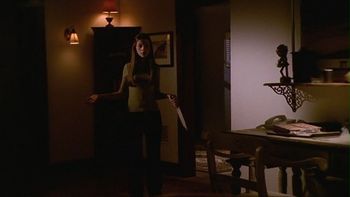 "Glory is evil. And powerful. And in no way prettier than me."
—Buffy Summers
Directed by Michael Gershman
Written by Steven S De Knight
The Scooby Gang discusses plans for Buffy's birthday and dealing with Glory. Giles tells everyone of the new information they have regarding Glory that the council has provided; she was a hellgod from one of the darker demon dimensions who has somehow found her way into ours. While she is immortal and apparently invulnerable, she is also mostly insane due to being stuck in human form, and needs to suck mental energy from humans, explaining the sudden increase in Sunnydale's mentally ill population. Xander suggests that they try hunting down the Key that Glory is looking for, but as the gang start to discuss this plan Buffy and Giles admit they know where the Key is. Xander and Willow are hurt that information was kept from them, and Buffy decides to tell the gang the truth about Dawn, reasoning that they deserve to know the full story, as their lives will be on the line. Several of the Knights of Byzantium chant around a fire before they are interrupted by Jinx, one of Glory's minions. Glory arrives and kills all of the Knights except Orlando, whom she later tortures for information.
At the Magic Box, everyone is awkward around Dawn given their new knowledge of her origins, which she picks up on. Giles hides a book in a hidden counter drawer, which Dawn also notices. Later, at a gathering for her birthday, Buffy opens presents from her friends. Dawn gives Buffy a photo from a vacation they took to the beach with their dad. As Dawn talks about the vacation, everyone goes quiet picking up on Buffy's sadness, knowing that the vacation is just another false memory. Nevertheless, Buffy is still touched by the thoughtful gift and hugs her sister close. Later, Dawn overhears Buffy, Giles and Joyce talking about her in the kitchen, discussing if her existence poses any kind of danger. When Xander and Anya go quiet when Dawn approaches, she finally lays into everyone for their constant secrecy around her before running to her room.
After sneaking out of the house, Dawn runs into Spike, who was keeping his typical watch outside Buffy's house. After a brief conversation, Dawn tells Spike that she is on her way to the Magic Shop to steal a book. Spike notes the myriad dangers of roaming around alone at night, and then he accepts Dawn's offer to let him tag along. With Spike's assistance, Dawn breaks into the shop and finds the book that she had seen Giles hide earlier. Reading Giles's entries about the Key, she reads that it is outside human perception and can only be seen by psychics and mad-men, causing her to remember being confronted about not being real by crazy people. Although Dawn gets a really bad feeling, she nevertheless keeps reading and finds out that the Key can also be seen by snakes and dogs, and she remembers how Glory's snake seemed to have a special interest in her. Dawn has already realized the truth as Spike takes over the reading and confirms what is now obvious to her—the monks, seeking to make sure the Slayer would protect the Key no matter what, sent it to her transformed into a sister. Spike is surprised, as Dawn's world starts to crumble.
As the gang discuss the fact that Riley hasn't sent so much as a message to Buffy for her birthday, Dawn suddenly emerges, bleeding from a self-inflicted knife wound, tearfully questioning what she is. Buffy and Joyce are horrified that Dawn has found out the truth. The party is brought to an abrupt end and everyone else leaves so they can try to talk to Dawn, but everything has changed for her and she's scared, so she demands that they leave her alone.
The next day at the Magic Box, Buffy walks in demanding from Giles all the information there is about the Key so she can give Dawn some answers. Anya notices some cigarette butts in an urn, and Buffy realizes that Spike had a hand in Dawn finding out the truth the way she did and storms to his crypt, ready to beat the living snot out of him. However, Spike turns the tables on her and blames her for not telling Dawn the truth in the first place. He also notes that Dawn was going with or without him, and that he only went along to protect her from harm, thinking that she would be safer with "Big Bad" looking over her shoulder. Now Buffy is only going after him to make herself feel better. Sensing the truth in Spike's words, Buffy leaves.
At the Summers house, Dawn initially refuses to go to school but when Joyce tries to be there for her daughter, Dawn refuses and decides to head to school anyway.
Jinx threatens Ben at the hospital, but Ben responds that Glory can't hurt him, no matter what he does. Joyce talks to Buffy later, telling her that Dawn got herself suspended from school. Buffy explains that as far as Dawn's concerned she's not real and nothing she does matters. Dawn overhears them and misunderstands the conversation as the two agreeing she's not really their family. She then rampages through her room, burns her diaries, and runs away. The smoke alarm alerts Buffy and her mom to Dawn's little fire and departure.
The gang gathers at the Magic Box and then splits up to search for Dawn. Spike does what he can to comfort Buffy, and tells her that they will find her sister before it's too late. Buffy then admits that Spike had been right about Dawn—Buffy should have been honest with her in the first place. Dawn passes through the park, reliving past memories only to be reminded of their falseness, then ends up at the hospital.
She searches for answers in the Psych ward, trying to persuade the mental patients to tell them what they see when they look at her, then runs into Ben. She blurts out to Ben that she's the Key and he freaks out, trying to make her leave before Glory can find her, but it's too late. Ben suddenly changes into Glory, but Glory remembers nothing about Ben's conversation with Dawn, and the young girl pretends to know nothing. Dawn questions Glory about the Key, trying to get more information, and Glory reveals that the Key is very old, then realizes Dawn knows nothing and is wasting her time. Dawn doesn't seem to remember exactly how Glory got into the room.
Buffy shows up in time to stop Glory from draining the energy from Dawn. With some help from the rest of the gang, Buffy gets in a few good hits and takes a few as well before Willow and Tara perform a spell to teleport Glory somewhere else. The godly one ends up high in the sky and falls straight to earth. Buffy shows Dawn that no matter what, they are sisters and bound by blood. Dawn tries to tell Buffy that Ben turned into Glory, but can't seem to recall the information correctly, thinking that Ben was there then left before Glory arrived. The two sisters then head the home, their relationship slowly returning to normal.
---
Tropes in this episode include:
---