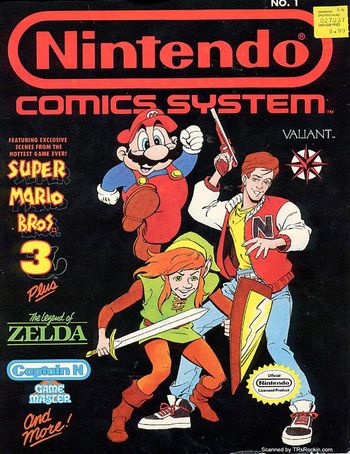 The Nintendo Comics System, first published in 1990, was an early and short-lived imprint of the comic book company
Valiant Comics
. As the name suggests, it was a series of comic books based on the popular
Nintendo
video game franchises and their
cartoon spin-offs
. The titles published within this imprint included stories based on:
Super Mario Bros. (of course) - In the only truly comedic comic in the series, Mario and Luigi defend the Mushroom Kingdom against the evil forces of Bowser Koopa.
Game Boy - In what may or may not be a Spin-Off from the Super Mario Bros. comic, a disgruntled man named Herman Smirch is turned into a slave for Super Mario Land villain Tatanga and is forced to release through "the gateway" (a.k.a. a Game Boy) when the alien demands it. Luckily, other Game Boy players are always around to release Mario (who has a strangely different personality here than in his other comic) through the gateway so he can drive Tatanga's forces away.
The Legend of Zelda - Link and Zelda have to protect the Triforce of Wisdom from Ganon, the Prince of Darkness. These comics take place following the events of Zelda II: The Adventure of Link and have many details in common with the cartoon series based on the games which debuted around the same time.
Captain N: The Game Master - Based on the cartoon of the same name, except it takes itself more seriously. Also, Samus Aran, having been oddly absent from the cartoon, is here, while third party characters Simon Belmont and Mega Man are absent.
Metroid - Documents further adventures of Samus Aran and is possibly set in the same continuity as the Captain N comics (it uses the same design for Mother Brain). Unfortunately, only one story was written for this one.
Punch-Out!! - Stories are made based off of Little Mac's matches with his opponents in the games. OK, only two (Piston Honda and Super Macho Man).
Unfortunately, despite Nintendo's prominence in the video game market at the time, the comics apparently did not sell very well; arguably, the Zelda comics were the most popular and had the longest run. They were all discontinued right around the time the Super NES was launched (though as Nintendo Power showed the following year, it was not the end of Nintendo comics in general).
The comics are archived here
, although a few stories are missing.
---
These comic books contain examples of:
Super Mario Bros. and Game Boy
Captain N: The Game Master and Metroid
---
The Cameo: Mario makes a brief appearance as the referee, reflecting his role in the NES game.
---