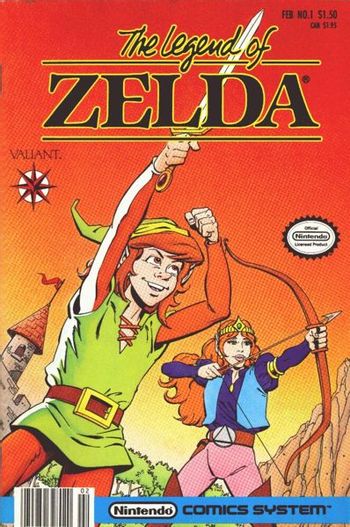 Back in the heyday of the
Nintendo Entertainment System
,
Valiant Comics
was authorized by
Nintendo
to produce the
Nintendo Comics System
— comic book series based on some of their most popular game titles, including
Super Mario Bros.
and
Metroid
. Naturally, given the popularity of
The Legend of Zelda
, this too was added to the comics lineup.
Unlike the manga adaptations which would be produced for the later games, the Valiant comics did not retell the stories of the NES games. The storylines were set in the Hyrule of the original game and Zelda II: The Adventure of Link, but took place after the conclusion of the second game. These chronicled the further adventures of Link and Princess Zelda. The comics shared many similarities with the cartoon series based on the games which was popular around the same time; Zelda's costume is very similar to that worn by her animated counterpart, and certain other details were used in both media — for instance, Link owned a horse named Catherine in both the cartoon and the comics, rather than the Epona of the later games. Unlike the cartoon, however, the comic books included the existence of the Triforce of Courage.
Like the rest of the Nintendo Comics System, the series only lasted for roughly two years. Copies of the comics are regarded by some today to be collectors' items.
Compare other Zelda comics: Nintendo Power's adaptation of A Link to the Past and the Zelda manga.
---
The Zelda comic books include examples of:
---