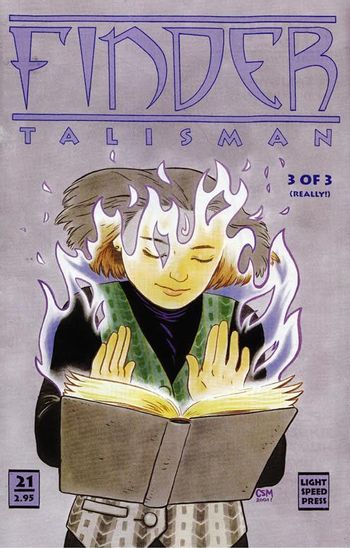 "It's nice, living in a city. No
rain,
no
snow,
no cold
wind,
no hot summer. No three different wardrobes to keep up with. Air scrubbers on every corner, and all the sun you want from the streetlamps. No bugs in your food and no rats in your walls and no big crime surge after dark because there
isn't
any dark. Just shut off your windows when you decide you've had enough.
Hours
and
days
and
weeks ,
nice neat and dependable, and tons of tings going on to fill all those hours up, and a nice quiet nest to retreat back to. No more neighborhoods out in the open with big walls around them and razor wire and broken glass on top of 'em. No more armed guards and gunfire at night. No more living in a glorified root cellar because we're too afraid to live in the house itself. Everything above ground and I
don't
just mean the buildings."
— Rachel
Independent comic book described by the creator, Carla Speed McNeil, as "aboriginal sci-fi", although perhaps better described as "people in a weird world with very human problems."
Strange creatures, Lost Technology and bizarre customs regularly crop up in rich detail, but they're all eerily familiar and serve as the backdrop to tales of love, hate, confusion and seeking.
Think of it as Slice of Life Embellished, with the embellishment cranked up, then taught to play nice and not upstage Slice of Life. The stories are focused on (or at least tangentially related to) Jaeger, a member of the title order of Finders.
Several issues and two complete storylines can be read at the creator's website
.
Dark Horse
have recently begun publishing Finder, releasing the first seven arcs as two omnibus 'Library' volumes and continuing to publish the comic in serial format and graphic novels.
Has nothing to do with The Finder tv series.
Stories so far:
Sin-Eater (two volumes): Jaeger returns to the city of Anvard and discovers that Emma Grosvenor, his on-off girlfriend, and her children are in danger from her mentally-disturbed estranged husband, who is Jaeger's former commanding officer

who Jaeger is still in contact with

.
King of the Cats: Jaeger travels to the city-cum-theme-park of Munkytown to help arrange a peace deal between his own nomadic Ascian people and the Nyima, a culture of humanised lions.
Talisman: Emma Grosvenor's youngest daughter, Marcie, struggles with the fall out of Sin-Eater and her own developing writing talent.
Dream Sequence: Magri White is the creator and, via brain-computer integration, human server of Anvard's most popular MMORPG. But something in his mind has started to attack his guests...
Mystery Date: Vary, a high-class prostitute and anthropology student, has to deal with cultural issues and her attraction to both of her academic supervisors.
The Rescuers: The baby son of one of Anvard's wealthiest men is abducted and murdered, and Jaeger attempts to ensure that some kind of justice is done.
Five Crazy Women: Jaeger confides in a gay buddy about the problems of heterosexual dating.
Voice: Rachel Grosvenor, Emma's eldest child, tries to win full acceptance in her mother's clan despite her half-breed status.
Torch: Partially published online, then abandoned: the installments were later deleted, and the Rachel plot thread was recycled and expanded into Chase the Lady.
Third World: Published in the Dark Horse Presents anthology series and the first color comic in the series. Jaeger gets a job as a courier, is sent on an unexpected trip out to distant parts, and finds himself confronting the dark secrets of his past.
Chase the Lady: Also from Dark Horse Presents. Rachel discovers that becoming Llaverac aristocracy just means more financial worries and public pressures. And then there's the Ascian community that she's somehow become the public protector of, and the very real physical and spiritual dangers of her increasingly deep involvement in their Voudoun-like religion.
---
This comic book series provides examples of:
---