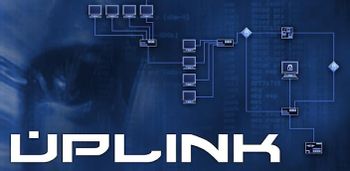 Trust is a weakness
— Tagline
Uplink is a 2001 video game by Introversion Software. It can best be described as a Hollywood Hacking simulation. The whole premise is that you, an unnamed agent of the Uplink Corporation (an underground hacker-for-hire service), have just joined up in the ranks. Using your PC, you move up the ranks of Uplink agents by hacking different companies' computers and servers.
It's arguably one of the most realistic games out there, because you never see your character - in fact, the character is made out to simply be you, operating under an alias. You never see your character because he's/she's sitting in the same chair you are, typing in commands on your keyboard with your hands.
Compare with Net Runner. There was a fan sequel called Codelink, and there also exists a command prompt-based Spiritual Successor known as Hacknet. Not to be confused with the standalone demo for the original Half-Life, Half-Life: Uplink.
---
This game provides examples of:
---