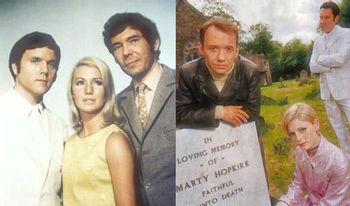 She can't see me, Jeff! I chose you. You're the only one.
— Marty Hopkirk to Jeff Randall
Why can't you stay dead like anyone else?
— Jeff Randall to Marty Hopkirk
Randall and Hopkirk (Deceased) is a Buddy Cop Show (well, Buddy Detective Drama) from the 1960s with a difference.
When Marty Hopkirk, of the Randall and Hopkirk private detective agency, dies in a hit-and-run, everyone including his partner, Jeff Randall, assumes it was a tragic accident. That is, until someone insists that it wasn't, it was murder, and Jeff must investigate.
Why does Jeff believe them? Well... because the person who insists is Marty, in ghostly form (denoted by his white suit), has every reason to believe he was murdered and you can't get a better witness than that! Actually, you can, because only Jeff (and the odd psychic) can see and hear Marty so he can't exactly give a testimony. So together Jeff and Marty try to solve the murder and Marty can rest in peace...
Or he could, if he hadn't stayed out of his grave too long, so now he's stuck on Earth. It's not too bad, though, as having a ghost for a partner who has a few useful powers—walking through walls, teleportation, the ability to shatter glass and call up gusts of wind, telekinesis (though this is just to make up for Marty's intangibility, anyway)—is quite handy on cases.
On the other hand, it is very trying to be in a Love Triangle where the girl you like can't even see your rival and he gets stroppy with you for pursuing her anyway...to be fair, though, she is his widow. That and people think you're crazy because of all the (real) Dead Person Conversations you keep having.
It ran 26 episodes from 1969 to 1970 on ITV, starring Mike Pratt and Kenneth Cope. It had a Remake in 2000 (by the BBC, curiously) for a moderately successful 13-episode run over two seasons as Randall & Hopkirk (Deceased) (note the ampersand), a much sillier series (though the original was silly, too...just not nearly as silly) featuring Comedy Duo Vic Reeves (as Marty) and Bob Mortimer (as Jeff). The revival series also added extra powers and Wyvern, a ghostly tutor for Marty, played by Tom Baker.
---
The original series provides examples of:
In addition to many of the above, the remake provides examples of:
Creator Cameo: Or rather, producer/writer; Charlie Higson appears in virtually every episode, sometimes in small walk-on parts but occasionally in bigger roles.
Darker and Edgier: It is this because due to being raunchy than the original series, that in the UK, it has a 12 rating.
---