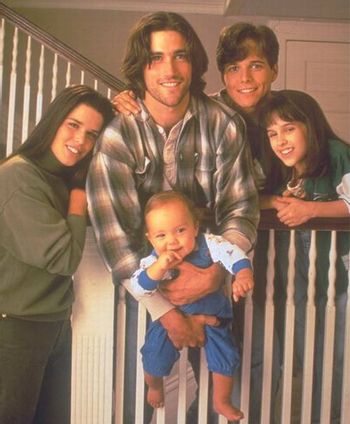 Party of Five is a teen drama that aired on FOX from September 1994 to May 2000.
The main plot focuses on the five kids of the Salinger family who have been orphaned after their parents are killed in a car accident. Charlie (Matthew Fox), an irresponsible 24-year-old worker of odd jobs has to step up and be the new man of the house. The second oldest is Bailey (Scott Wolf), a 16-year-old responsible team mom (at least for the first few seasons). 15-year old Julia (Neve Campbell) is sensitive, and 11-year-old Claudia (Lacey Chabert) is a child prodigy. The fifth is Owen, barely a year old. During the series, they deal with issues like alcoholism, cancer, abuse, and death.
After the first season had a poor run with audiences yet a favorable reception with critics, it was Un-Cancelled due to the protests a small pool of loyal fans. The series produced another breakout star in Jennifer Love Hewitt, who played Bailey's sometime girlfriend Sarah.
It generated the unsuccessful Spin-Off Time of Your Life. In 2018, a reboot of the series was ordered; it began airing in January 2020. In this series the children's parents are not dead, but have been deported.
---
Tropes used by the series:
A-Cup Angst: Claudia, an episode even involved her buying a special padded bra for this very reason.
Foreshadowing: When

Jill dies

at the end of season 1, in a fit of self-destructive rage, Bailey gets drunk and drives home. For over an entire season after this, it seems like this was just going to be an isolated incident. By the halfway point of season 3,

it definitely isn't.

Gay Aesop:

Claudia learns that her violin teacher is gay midway through season 1. Charlie delivers the Aesop to her and she's gotten over it by the end of the episode.
In season 2 Julia makes friends with a closeted lesbian, who tries to cover up by getting off with a random guy. The end implies she's going to come out to her parents.
Julia, after getting some good news from her writer's workshop professor, Perry, in Season 5, haphazardly kisses Perry, not aware that Perry is a lesbian. While promos during sweeps played this up as a potential new love interest, the arc actually ends up being about how Perry really doesn't like her sexual orientation being used as a way for Julia to work through her relationship and identity issues - even unintentionally.
Happily Married: It's what we initially think about the parents. However as the series progresses, we find out that things weren't completely harmonious - namely the father's alcoholism and the mother's affair with a fellow musician.
Hard-Drinking Party Girl: Bailey seems to have a thing for these girls, judging by his season 1 girlfriend Jill and his season 3 fling Callie. Daphne from the last two seasons starts out as this.
Head-Tiltingly Kinky: Kirsten's reaction to the porn tape Claudia accidentally rents for her. See Brick Joke above.
---