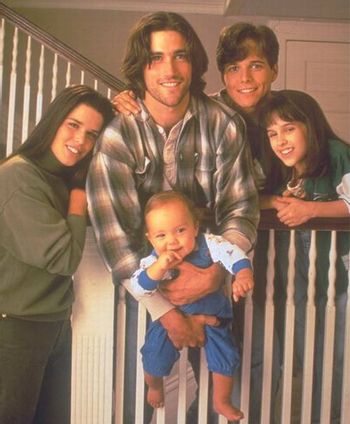 Party of Five is a teen drama that aired on FOX from September 1994 to May 2000.
The main plot focuses on the five kids of the Salinger family who have been orphaned after their parents are killed in a car accident. Charlie (Matthew Fox), an irresponsible 24-year-old worker of odd jobs has to step up and be the new man of the house. The second oldest is Bailey (Scott Wolf), a 16-year-old responsible team mom (at least for the first few seasons). 15-year old Julia (Neve Campbell) is sensitive, and 11-year-old Claudia (Lacey Chabert) is a child prodigy. The fifth is Owen, barely a year old. During the series, they deal with issues like alcoholism, cancer, abuse, and death.
After the first season had a poor run with audiences yet a favorable reception with critics, it was Un-Cancelled due to the protests a small pool of loyal fans. The series produced another breakout star in Jennifer Love Hewitt, who played Bailey's sometime girlfriend Sarah.
It generated the unsuccessful Spin-Off Time of Your Life. In 2018, a reboot of the series was ordered; it began airing in January 2020. In this series the children's parents are not dead, but have been deported.
---
Tropes used by the series:
---