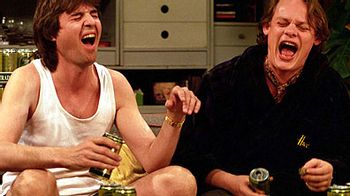 "Let's face it, Tony, the only way you're gonna be in there is that if you're both marooned on a deserted island and she eats a poisonous berry or a nut which makes her temporarily deaf, dumb, stupid, forgetful and desperate for sex."
Men Behaving Badly is a classic Brit Com written by Simon Nye, very loosely adapted from a not-particularly-successful novel he wrote in the late 80s. The main cast consists of Martin Clunes as Gary, Caroline Quentin as his girlfriend Dorothy and Leslie Ash as Deborah, who lives in the flat above; the first season had Harry Enfield playing Gary's flatmate Dermot, while all the subsequent ones replaced him with Neil Morrissey as Tony. It's generally acknowledged that this second season was the moment when the show grew its beard. There are several reasons for this - Tony was a more interesting character than Dermot and there was better chemistry between him and Gary; the show moved from ITV to BBC1 and the lack of adverts meant that Nye had a few more minutes to play with, and it hit a moment of zeitgeist as the late 80s/early 90s New Man was being brushed aside by a resurgence of laddish masculinity.
Along with Have I Got News for You, it is probably the single most-referenced show title for British newspaper headline writers and has been shamelessly ripped off for the titles of countless documentaries. See The Joy of X for examples.
The show lasted six seasons, with a follow-up trilogy of three extra-long episodes, and a final reunion sketch (though without Leslie Ash or Caroline Quentin) on Channel 4 that was broadcast on the 24th October as part of "Feeling Nuts", a programme broadcast to raise awareness about testicular cancer.
Came sixteenth in Britains Best Sitcom.
---
Men Behaving Badly provides examples of:
---