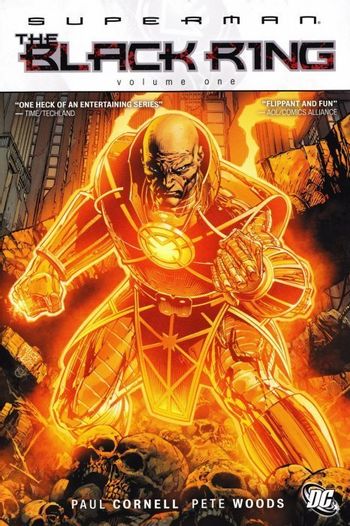 The Black Ring was an arc in Action Comics taking place following the events of Blackest Night. While Superman and his allies (Supergirl, Superboy and the like) struggled against a revived Doomsday, alongside an army of clones of him with the same attributes as the four replacement candidates of Supes from The Death & Return of Superman, as well as the Doomslayer (a Doomsday for Doomsday) in Reign of Doomsday, archenemy Lex Luthor took Superman's place as the star of Action Comics, for an eleven issue run that included two crossovers with Secret Six and an annual.
During the events of Blackest Night, Luthor had briefly served as an Orange Lantern. Infected by the Orange Light of Avarice, Luthor finds himself unstable and unsatisfied without the power ring, and sets out on a quest, not to regain what he has lost, but to gain a greater power still, by tapping into the energies of the Black Lantern Rings. His quest takes him and his allies around the world, as they seek the energy spheres containing the rings' power, and come into conflict with foes including, but not limited to, Mister Mind, Deathstroke, Gorilla Grodd, Vandal Savage, The Joker, Larfleeze, Brainiac, and even Death herself. The arc explored Luthor's relationships with these other villains, doing its best to define the Post-Crisis, Pre-New 52 Luthor as a character, and as a major figure within the DC Universe as a whole.
It all culminated in a massive, 92 page special in Action Comics #900, that revealed Luthor as the mastermind behind Reign of Doomsday, saw him finally attain the godlike power he had sought for so long, and contained his last, epic confrontation with Superman prior to the New 52 reboot. Written by Paul Cornell and illustrated by Pete Woods, The Black Ring served as a final sendoff to the Post-Crisis world's greatest supervillain.
---
This work contains examples of:
---