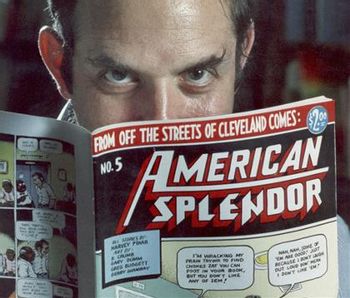 "Comics are words and pictures. You can do anything with words and pictures."
— Harvey Pekar
What is a Comic Book really, but words with pictures? Why, the words could be about anything, as long as the pictures matched. They don't have to be about extraordinary beings in fantastic settings, about Superheroes or Funny Animals.
Why, really, they could just be about an ordinary man, with an ordinary life. They could even be autobiographical.
That's precisely what American Splendor was: the illustrated, sequential tales of ordinary, shlubby Cleveland file clerk Harvey Pekar, as told by ordinary, shlubby Cleveland file clerk Harvey Pekar himself (along with a variety of artists), documenting his generally mundane life from 1976 to his death in 2010.
Due to the nature of the series, people from Harvey's life (such as his wife, Joyce and his foster daughter, Danielle) continually appear in the comics.
A film, American Splendor, was released in 2003 starring Paul Giamatti as Pekar. The film both dramatizes Pekar's life story, and vignettes from his comic books. The real life Pekar, his wife Joyce and Pekar's friend Toby Radloff appear as themselves in several on-the-set documentary segments throughout the movie.
See also Robert Crumb, a friend and fellow jazz aficionado of Harvey's, who drew several American Splendor stories (and yes, was even featured in a few as a character).
---
Tropes:
---