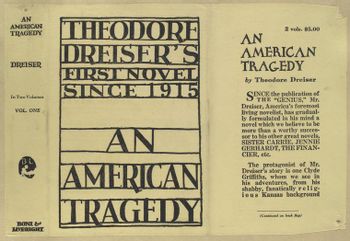 Theodore Dreiser's An American Tragedy was first published in 1925. A Doorstopper, this long book chronicles the downward spiral of Clyde Griffiths, a poor young man trying to escape his roots but finding himself facing hurdles on account of his class, background and education at every step of the way. He eventually ends up in a Love Triangle between the wealthy Sondra Finchley and the poor Roberta Alden. As the title states, it eventually ends in tragedy.
The story was based on a real-life incident, the murder of Grace Brown by Chester Gillette in 1906
. In many ways it anticipates the "true crime" novels with its detailed realism, gritty descriptions, lack of sentimentality and emphasis on larger social forces. However, the prose style is closer to that of Émile Zola than pulp fiction.
The story had a major impact in its time and was repeatedly adapted for film and theatre. In addition to this, the story itself led to many a Whole Plot Reference and Shout-Out to the infamous "boat scene".
An official film adaptation appeared in 1931, directed by Josef von Sternberg; however, Executive Meddling resulted in a film neither Sternberg or Dreiser liked. The story was adapted again (albeit with the characters' names changed) as the 1951 film A Place in the Sun, directed by George Stevens and starring Montgomery Clift and Elizabeth Taylor. Other works that echo the story include Sunrise, Match Point, and A Kiss Before Dying.
---
Tropes
---