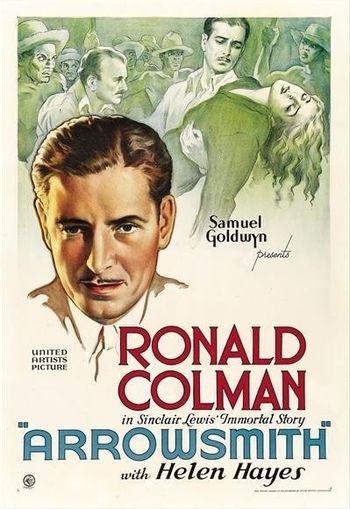 Arrowsmith is a 1925 novel by Sinclair Lewis that won the Pulitzer Prize for Literature. It was adapted into a film in 1931, directed by John Ford, starring Ronald Colman, Helen Hayes, and Myrna Loy.
The story is the life of idealistic doctor Martin Arrowsmith (Colman). Arrowsmith goes to medical school and shows great promise as a research scientist, but elects to go into private practice in a small town to support his new wife Leora (Hayes). Eventually Arrowsmith gets a job at the McGurk Institute in New York. There his research into The Black Death (that is, The Plague, Yersinia pestis) leads him to discover a bacteriophage (a "serum") that will cure the illness. When an outbreak of bubonic plague hits the West Indies, Arrowsmith goes there in order to contain and cure the illness, with Leora tagging along.
Lewis declined the Pulitzer Prize awarded to him, citing a concern with writing to win awards. The film by John Ford itself received four Academy Award nominations.
---
Tropes:
---