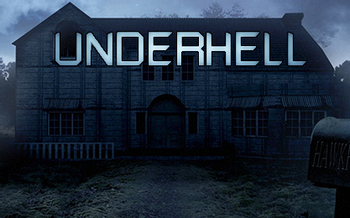 Underhell
is a horror-action mod for
Half-Life 2
, with a large number of gameplay styles. Its first release was on March 5, 2011 containing the Prologue. The second release was on September 1, 2013, containing the first Chapter. Unfortunately, it has since been stuck in
Development Hell
.
In Underhell, you assume the role of Jake Hawkfield, a SWAT officer who has recently lost his wife in an apparent suicide. The Prologue takes place one week after this, with Jake responding to a call to a hostage situation at a local hospital. However, it quickly becomes apparent that there is something bigger than a random act of terror going on. Chapter One picks up shortly after the events of the Prologue, with Jake arriving at the mysterious and top-secret A.R.C. complex. Shortly after Jake's arrival, a mysterious virus begins to spread out of control, zombifying nearly the entire population of the complex, save a few security guards and civilians who he must team up with to survive. Of course, this turns out to be something bigger than a simple zombie outbreak, as soldiers move in to "disable" the group, and discerning the truth becomes more and more difficult.
Underhell's gameplay is split up into three sections: The House is a horror-themed adventure where Jake must uncover the secrets of his house and shed light on the mysterious circumstances surrounding his wife's death, all the while being stalked by her ghost. The Dreams are a series of puzzles where Jake explores his own mind and uncovers the memories of his mysterious past. And The Chapters are where the majority of the story takes place, and is a horror-fps with some tactical elements mixed in.
The mod's official site can be found here.
---
This game provides examples of:
Hyper Space Arsenal: Averted. Jake can only carry five weapons. That being said, you can fit a lot of first aid kits, spray bottles, and rolls of bandages into a prison jumpsuit.
If We Get Through This...: Bryan tells Junior that he will get him a Power Punch if they escape.

Junior is killed by Igor shortly afterwards.
---