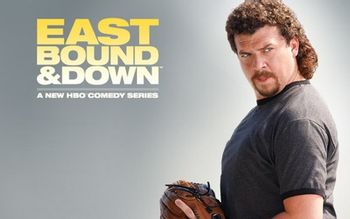 "I'm the man who has the ball; I'm the man who can throw it faster than
fuck
. So that is why I am better than everyone in the world. Kiss my ass and suck. My. Dick. Everyone."
—Kenny Powers
Eastbound & Down is an HBO comedy series that tells the story of washout major league baseball pitcher Kenny Powers. After years of jerkassery towards the media and professional sports, Kenny finds himself back home in North Carolina, living with his brother's family with a sad look on his face and an even sadder pitch. He gets a job at his alma mater, Jefferson Davis Middle School, as a substitute gym teacher, working with oddball principal Terrence Cutler, obsessive music teacher Stevie Janowski, and art teacher (plus teenage-flame) April Buchanon. Kenny is willing to do whatever it takes to get back on top; whether it be the Majors or April. He aspires for both.
The second season of the show sees Kenny making a trip to Mexico to try to play baseball there, while the third season features Kenny's return to America on a minor-league team in Myrtle Beach. Despite the apparent conclusion of the story arc at the end of season 3, HBO ordered a fourth season in which Kenny starts a career as a cable sports pundit, which ran in 2013. The series ended after four seasons and 29 episodes.
The title is a reference to the Jerry Reed song "East Bound and Down," the theme song of Smokey and the Bandit, but the show has no actual connection to the plot.
---
Tropebound and Down:
---