Five Nights at Freddy's Main Character Index
Character-specific pages: William Afton
Animatronics: In general | Games: First Generation, Second Generation, Third Generation, Fourth Generation, Fifth Generation, Sixth Generation, VR Generation, Seventh Generation, Adventure Characters | Novels: Silver Eyes Continuity, Fright Generation
Humans: Protagonists, Instructors, The Afton Family, Other Humans
Miscellaneous: Companies
---
Subpages:
Games
Novels
Silver Eyes Continuity (Five Nights at Freddy's: The Silver Eyes, Five Nights at Freddy's: The Twisted Ones and Five Nights at Freddy's: The Fourth Closet)
Fright Generationnote (Five Nights at Freddy's: Fazbear Frights)
---
open/close all folders
In general:
In general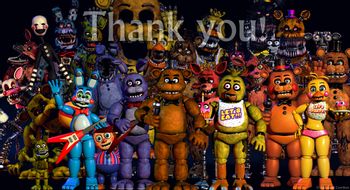 "Uhh, the animatronic characters here do get a bit
quirky
at night, but do I blame them? No! If I were forced to sing those same stupid songs for 20 years and I never got a bath? I'd probably be a bit irritable at night too."
— Phone Guy
The main attraction of Fazbear Entertainment establishments, and your main foes.
---
Other animatronics:
Freddy Frostbear
A Christmas themed animatronic that only appears in FNAF: AR, Freddy Frostbear is a more icy, and more deadly, version of Freddy Fazbear. He was added to commemorate Christmas 2019. A palette swap of himself, Black Ice Frostbear, was later added to commemorate Christmas 2020.
---
---