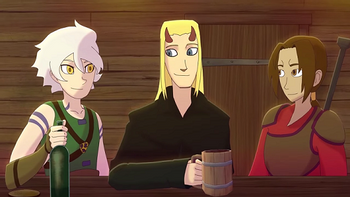 "We live in a world carved by adventure, crafted by heroes and sages whose great deeds have defined generations. You come now to the Free Isles because you, too, share the spark of courage, the belief that this world must be defended — that mysteries must not remain unsolved. This is the beginning of your chapter in the ever-growing legend of humanity."
Thrilling Intent is a web series chronicling Pathfinder sessions of a group of role-players.
Actually, that's a bit inaccurate. Let's start again.
Thrilling Intent is a web series produced by a group known as The Third Wheel, which chronicle the misadventures of the adventuring team of Markus Velafi, Gregor Hartway, and Aesling (best just to call her Ashe). After being hired in Meadshire, a town entirely dedicated to allowing people to pay to be "adventurers," the three are sent to fight a monster that has been causing more slaughter than the usual costumed sheep. After beating up a creature made entirely of human remains, they end up getting arrested for being too strong to be legally considered human by dozens of guards decked out in full cardboard armor. And that's only the beginning.
This series has a few things that set it apart from most videos of tabletop sessions. For one thing, these adventures are not simply displayed as a few people sitting around a table talking - instead, the videos display a detailed map of the area, using tokens featuring detailed illustrations to represent characters. It also uses several still images on top of that to display conversations, and occasionally entirely animated cut-scenes for more cinematic moments. In addition, most of the dice rolling and other monotonous parts of role-playing games is done behind camera, leaving only the action for viewers. And while the system is Pathfinder, it is heavily house ruled, the main rule of which seems to be the Rule of Cool.
Now with a Character Sheet.
The series can be viewed here
---
Thrilling Intent contains examples of:
Then, during the climax of the BIG WAR arc, they defeat Xin with a truly epic one
.