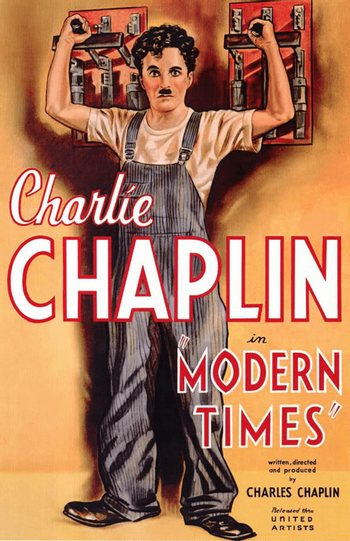 "Modern Times. A story of industry, of individual enterprise - humanity crusading in the pursuit of happiness."
— The film's introduction
Modern Times is a 1936 American comedy film by Charlie Chaplin that has his iconic Tramp character struggling to survive in the modern, industrialized world. The film is a comment on the desperate employment and fiscal conditions many people faced during The Great Depression, conditions created, in Chaplin's view, by the efficiencies of modern industrialization. The movie stars Chaplin, Paulette Goddard, Henry Bergman, Stanley Sandford and Chester Conklin, and was written and directed by Chaplin.
The movie begins with the Tramp working at a factory, screwing nuts and bolts on a conveyor belt, where he eventually suffers a nervous breakdown. He's sent to a mental hospital. After he recovers he soon finds that he's out of a job. He's soon mistakenly accused of being a Communist after accidentally and unknowingly happening to participate in a socialist march and pick up a red flag someone had dropped, and is thrown in jail. Ironically he finds jail to be more hospitable than the outside world. Throw in a poor orphan girl (noted in the credits as the "gamin") as a love interest and you have one of Chaplin's most critically acclaimed feature films.
The film was Chaplin's last-ditch effort to stay loyal to the style of the silent films that had made his career. There is audible dialogue, but only from artificial sources; whenever people talk face to face, it's done silently with caption cards, as a clear statement of Chaplin's view on the new filmmaking tool.
---
Modern Times includes the following tropes:
---