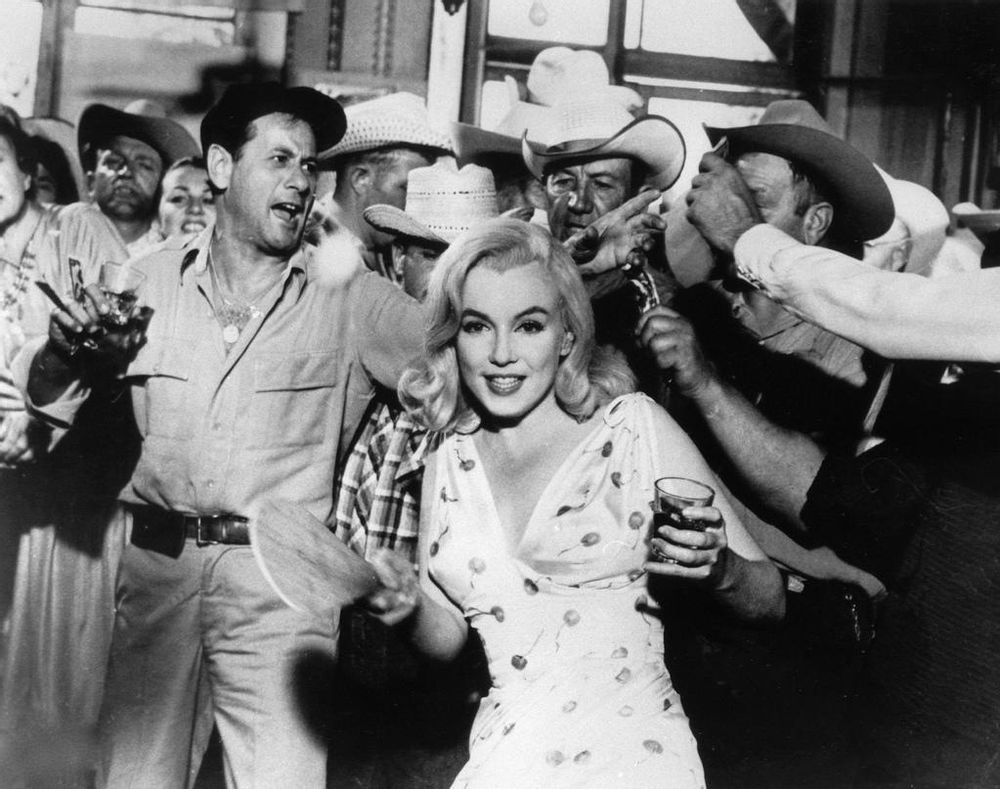 The Misfits is a 1961 drama film directed by John Huston, adapted by Arthur Miller from his own 1957 short story of the same name. Miller's then-wife, Marilyn Monroe, heads the cast along with Clark Gable and Montgomery Clift.
Roslyn Tabor (Monroe) has come to Reno to get a quickie divorce from her neglectful husband Raymond (Kevin McCarthy). One day she and her friendly landlady Isabelle Steers (Thelma Ritter) go to a cocktail lounge, where they meet aging cowboy Gay Langland (Gable) his friend Guido (Eli Wallach). Guido, who is enchanted with the beautiful Roslyn, invites her out to his unfinished house in the desert, but while there she falls for Gay instead. As it turns out, both guys are massive jerks who want Roslyn for themselves.
Gay and Guido decide to round up some wild mustangs to earn some money. They hire Perce Howland (Clift), a slow-witted rodeo rider, to help them round up the mustangs. Roslyn gets upset when she sees Perce getting hurt in the rodeo. After the rodeo, the group goes out to the desert to round up the mustangs. Roslyn gets even more upset when she finds out the mustangs are going to get turned into dog food.
The Misfits became a legendary Troubled Production. Temperatures in the Nevada desert were 120 degrees in the sun. Director Huston battled a drinking problem and kept passing out on set. Marilyn Monroe's out-of-control addiction to pills was an even bigger problem, which often left her unable to work or unfit to work if she actually made it to the set. Her collapsing marriage to Miller—she announced their separation a week after the production concluded—was another problem. However, she ended up largely a scapegoat to cover up John Huston's massive gambling problems; having spent most of the production gambling, the director ended up $50,000 in debt to various casinos. Production was halted for a week so that United Artists could raise the money (after Huston's begging of friends for loans and donations yielded very little). Marilyn Monroe was initially going to spend the week off in her bungalow, but was persuaded to check into a hospital by her doctor (after the latter was given a call by the director). Once she was in the hospital, Huston then broke the story that production was shutting down because of her. No one on set believed it, but that's the story the press ran with. Montgomery Clift was going blind. Eli Wallach was the healthiest cast member, and ended up being the last surviving star of the film.
Famous as the last completed film for both Gable and Monroe. Gable had a heart attack just two days after shooting wrapped, and died in the hospital eight days later. Monroe's erratic behavior and drug addiction were making her unemployable. She was fired from her last film project, Something's Got to Give, before she died of a drug overdose in 1962.
The making of the film inspired Arthur Miller's final play, Finishing The Picture.
Not to be confused with the musical group, even though they did get their name from this film.
---
Tropes: