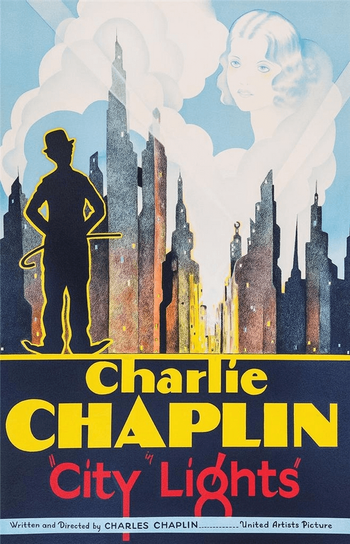 "A Comedy Romance in Pantomime"
— Opening Titles
City Lights is a 1931 American silent romantic comedy film starring, written by and directed by Charlie Chaplin. It also stars Virginia Cherrill and Harry Myers. Despite the fact that the production of silent films had dwindled with the rise of "talking" pictures, City Lights was immediately popular and is today remembered as one of the highest accomplishments of Chaplin's prolific career. Although classified as a comedy, City Lights has an ending widely regarded as one of the finest and most moving in cinema history.
The plot involves Chaplin, as the Tramp, falling in love with a blind flower girl (Cherrill) he meets on the street. Later he convinces a drunken millionaire (Myers) not to commit suicide, and the Millionaire proclaims the Tramp his friend for life. This lasts for as long as the Millionaire is drunk, of course. Oddly enough the Millionaire forgets who Chaplin is while sober, but remembers him again when drunk. Chaplin uses this new temporary millionaire status to woo the flower girl by buying all her flowers and driving her home in the Millionaire's car, and later by trying to pay for her rent and for an operation which will help her see again, using the Millionaire's money. This, of course, does not go over too well once the Millionaire sobers up.
---
City Lights provides examples of:
---