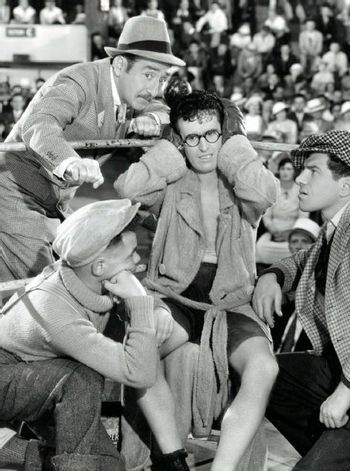 The Milky Way is a 1936 comedy directed by Leo McCarey, starring Harold Lloyd and Adolphe Menjou.
Burleigh Sullivan (Lloyd) is a mild-mannered, wimpy milkman. His sister Mae works as a hat check girl at a club. One evening Speed McFarland, the middleweight boxing champion and a patron at the club, gets fresh with Mae while drunk. A confrontation between Burleigh and Speed leads to Speed's Bumbling Sidekick Spider Schultz accidentally punching Speed in the face and knocking him out, an act which everyone mistakenly credits to Burleigh. Speed's devious manager Gabby Sloan (Menjou) hits upon an idea to capitalize on the publicity by building up Burleigh as a contender. Gabby arranges a series of fixed fights for Burleigh, all to set up a championship bout with Speed, which Burleigh will lose, making Gabby a lot of money. Only Burleigh is not in on the scheme, and comes to believe he is a legitimate boxer.
Lloyd's career had gone into decline in The '30s, as his optimistic can-do "Glasses" character proved an ill fit for The Great Depression and his elaborate stunt sequences worked badly in sound films. This movie, Lloyd's only attempt at Screwball Comedy, was well received by critics and did moderately well at the box office, but Lloyd still only made two more films before retiring.
Remade as the 1946 musical comedy The Kid from Brooklyn, starring Danny Kaye. Not to be confused with the 1969 film of the same name by Luis Buñuel.
---
Tropes: