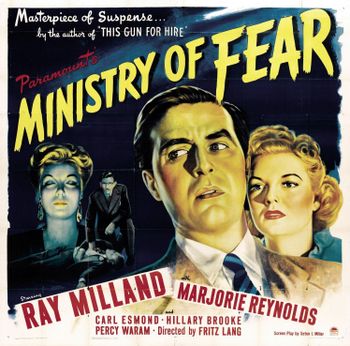 Ministry of Fear is a 1944 film directed by Fritz Lang. It is a Film Noir spy story starring Ray Milland as Stephen Neale, a man who has just been released from an insane asylum. While waiting for a train to London, he goes to a charity fete in a small town. He enters a contest to guess the weight of a cake, then goes to a fortune teller, who tells him what weight to guess. As he's leaving with the cake, another man arrives and visits the fortune teller. The people giving the cake away then tell Stephen that they were wrong and the other man guessed correctly, but Stephen says that his first guess was still closer, and leaves with the cake.
Sure enough, the cake is a MacGuffin that Nazi spies really, really want to obtain. After escaping one assassin, Stephen goes to the Mothers of Free Nations, the charity that was running the fete. He meets the charity's directors, Austrian anti-Nazi siblings Carla and Willi, and with their help investigates a tangled story of espionage and murder.
Ministry of Fear was based on a novel by Graham Greene. Neither Greene nor Lang liked the film, mainly because of Executive Meddling that imposed a happier ending, but in latter days it's regarded as one of Lang's best Hollywood film noirs.
---
Tropes: