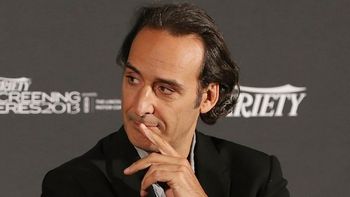 "I listen with my eyes and I look with my ears."
Alexandre Michel Gérard Desplat (born 23 August 1961) is a French film composer. He began composing in the late 80's in his home country and gained international recognition in 2006 with his scores in The Queen - for which he was nominated for an Academy Award - and The Painted Veil. He is the Production Posse composer for directors Roman Polanski, George Clooney, Stephen Frears and Wes Anderson. He's also a collaborator with writer/director Chris Weitz.
Desplat is also known for having a pretty extensive curriculum, with more than 4 scores every year, and has touched every possible genre like political thrillers (Argo, Zero Dark Thirty, Syriana), fantasy films (The Twilight Saga: New Moon, The Golden Compass, Harry Potter and the Deathly Hallows, Godzilla (2014)), action films (Firewall, Hostage), animation (sorry to say this, Brad Bird) (Rise of the Guardians, Fantastic Mr. Fox), comedies (Julie & Julia, Wes Anderson films), periodical dramas (The Painted Veil, The King's Speech, Lust, Caution, The Imitation Game) and even TV spots (the Jaguar spot featuring Tom Hiddleston, Ben Kingsley and Mark Strong). Though he works more often in the USA he still composes for his home country, like Rust and Bone and A Prophet.
He has been nominated for 8 Academy Awards, winning for The Grand Budapest Hotel and The Shape of Water.
---
Films with soundtracks by Alexandre Desplat:
Specific directors:
Rest of his filmography:
---