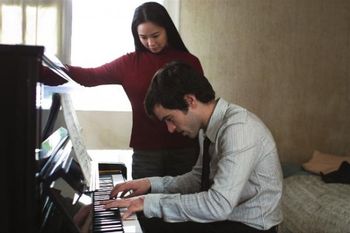 The Beat That My Heart Skipped (De battre mon coeur s'est arrêté) is a film directed by Jacques Audiard, starring Romain Duris and Linh Dan Pham. Loosely based on Fingers by James Toback, it was released in 2005.
Thomas "Tom" Seyr is an angry young man. Having followed in his father's footsteps in the world of shady real estate deals, he hates himself for what his job makes him do, but he can't find the resolve to escape his father's influence. However, his late mother was a concert pianist, and he inherited from her a talent for classical music; one day, he chances upon her former impresario, and decides to reacquaint himself with the piano.
In order to practice, he takes lessons with a recently arrived Vietnamese woman pianist, Miao-lin, and gradually reawakens his long-dormant skills. But the world of fast and dirty money isn't one that can be easily left behind.
---
Contains examples of:
---