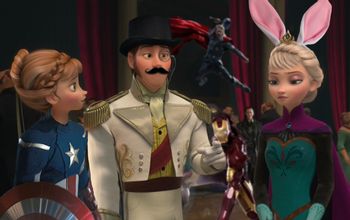 Constable-frozen is the only thing that transcends all tropes.
—
transhumanisticpanspermia
Constable Frozen
(Or Constable-Frozen or Constable+Frozen) is a tumblr fanblog of the Academy Award winning Disney Film Frozen. What sets Constable Frozen apart from other fanblogs is the poster's utterly surreal picture edits of the Frozen cast and film. Said picture edits tend to be crossovers with other works of fiction, or jokes and memes remade with the Frozen cast.
Constable Frozen's debut onto Tumblr was met with concern and bemusement, as Constable Frozen's art varies from the perplexing
, to the insane
, to the disturbing
,to the very funny. This, combined with the poster's total anonymity, has made Constable Frozen into a enigma. Despite this, a dedicated fanbase has built up around Constable Frozen, with adherents praising them as a comedic genius, some going so far as to state that their work has redeemed the Frozen Franchise.
Constable Frozen can be found here.
A submissions to reddit of this domain can be found here.
---
Works Constable Frozen has crossover-ed with Frozen:
---
This Blog provides examples of:
---
Elsa+Tv Tropes
---