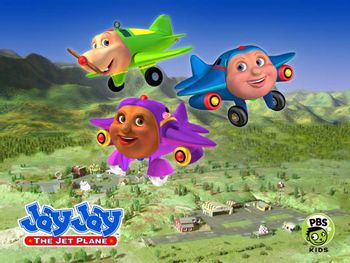 The sun is rising high up over Tarrytown
Friends taking off and friends touching down
That's where you'll find that one of a kind
Jay Jay
Jay Jay the Jet Plane
"That's me!"
—
Theme Song (CGI series)
Jay Jay the Jet Plane is an American CGI/live-action children's television series based at the fictional Tarrytown Airport. It has 73 episodes and it is aimed at ages 2-6. It is centered around a fleet of talking air vehicles that live in the fictional city of Tarrytown. The episodes are commonly distributed in pairs, with one header sequence and one end credits for each pair, and each pair is 25 minutes long. Each episode contains one or more songs; each song tends to occur in one episode. Produced by John Semper, the series is intended to be educational and teach life and sometimes moral lessons to children (and sometimes also to parents).
The series was originally done with model in 1994 through 1996, but switched to CGI and live action green screen in 1998. It kept going until 2005/2006 when the series suddenly stopped, even though there were plans for a movie. It remained silent until recently in 2021 when Trilogy Animation Group (The same people that animated The VeggieTales Show) announced that they're working on a new reboot
.
---
Jay Jay the Jet Plane provides examples of:
---