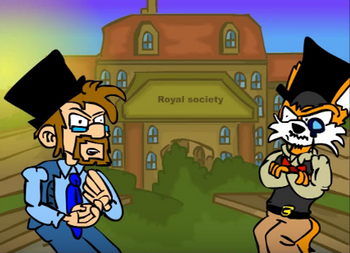 Sonic Dissected is an animated web series that takes an analytic look at the Sonic the Hedgehog franchise, be it the games, animations or anything Sonic related that gets announced, (like Sonic Boom) and discusses them about its narrative, it's flaws, its characters and gameplay and how we can improve them and see these games and characters from another point of view. The Sonic series can be quite controversial and are not there to just criticize the games or its audience. They just want to give you a better and deeper understanding of the games from a narrative perspective as well as to inform and educate you about them.
The series was launched in 2012, created and hosted by Roger van der Weide (of Sonic In X Minutes, Kingdumb Hearts and International Moron Patrol fame) and co-hosted by Luke the Fox (real name Luke Wholey), A British Sonic fancharacter who also voices in some of Roger's animations. They also have a third guy, Captain Theory (voiced by SalaComMander) who would sometimes pop in and explain a hypothesis on why certain things in Sonic work that way or why Sega/Sonic Team have done it.
Over the series they have discussed various games, its characters, had random guests that want to say their piece on certain Sonic Games and Roger has also done various Dissections on games such as Shenmue and Megaman.
The series can be found here
The videos were originally labeled as episodes 1 and 2, with a series of chapters, but now their episodes are more specific, talking about a certain theme. Here is a list of themes they have talked so far.
open/close all folders
Episodes 1 to 4
Episode 1:
Episode 2:
Episode 3:
Episode 4:
Episodes 5 to 9
Episode 5:
Chapter 9: Identity Crisis: They talk about Knuckles apparent Loss of Identity due to how he's written, and then go on to talk about other characters such as Tails and Dr. Eggman.
---
Tropes Included:
---