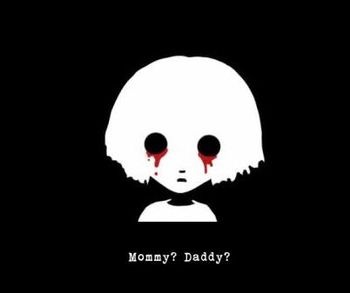 Fran Bow is a point-and-click Adventure Game developed by Killmonday. It tells the story of Fran, a young girl struggling with a mental disorder and an unfair destiny.
After witnessing the gruesome and mysterious loss of her parents, found dismembered at their home, Fran rushes into the woods, together with her only friend, Mr. Midnight, a black cat that Fran had previously received as a present from her parents. In the forest, Fran goes into shock over the loss of her parents and when she recovers, she's at Oswald Asylum, an oppressive mental institution for children, and Mr. Midnight is nowhere to be found. While under the care of the asylum, Fran is given an experimental drug called Duotine to help control her trauma, but it instead causes her to see a twisted, gory version of the world populated by shadowy creatures.
After having a dream about her beloved black cat, Fran decides to escape from the mental institution to find him and go back home to Aunt Grace, her only living relative. Fran sets out on what will turn out to be a bizarre, surreal quest for peace.
The narrative that follows was deliberately crafted to be interpreted as either a magical adventure, or one girl's journey through madness, or possibly as something in between.
Not related to the Laura Bow series.
This game contains the following tropes:
---