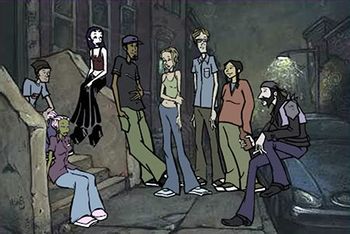 Downtown, or MTV's Downtown, was an animated series on MTV on urban life, based on interviews with real people. The show followed an ethnically diverse cast who live in New York City, and presents their everyday lives through quirky, humorous, and imaginative perspectives from the characters. It was created by Chris Prynoski, a former animator on Beavis And Butthead, and produced by David McGrath. In 2000, Downtown was nominated for an Emmy in the category of Outstanding Animated Program.
Like many of MTV's other cartoons, it lasted only one season of 13 episodes. All released between August and November, 1999. There has been an outcry for a DVD release of the series. The use of an original score rather than licensed music would make such a DVD release easier. Prynoski sublimated the lack of an official Paramount DVD release by way of offering a promotional DVD via his blog
, which includes all episodes of the series in DVD quality.
The creators of the series would go on to do Megas XLR, in which Goat is a recurring character, complete with the same voice actor.
---
Downtown features examples of:
---