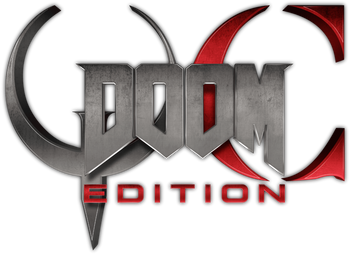 Quake Champions: Doom Edition is a Game Mod for Doom created by DBThanatos and Michaelis and released on February 6, 2018. The mod comes packaged with the dedicated Q-Zandronum
source port, which offers Quake-styled movement, improved netcode and various other quality-of-life changes. Other compatible source ports include Zandronum 3.0
, GZDoom 1.8.6-3.2.5
and Delta Touch
.
It aims to emulate the gameplay and features of Quake Champions, not only porting its arsenal but also the Champions system: the ability to play as a character with a weight class, an active ability and one or two passive abilities. However, QC:DE brings a new roster of 31 Champions to the fray, as well as the BFG10K, a weapon that isn't present in the game it's inspired from.
QC:DE is primarily a PvP mod, offering a variety of Solo and Team game types including Deathmatch, Capture The Flag, Domination, Last Man Standing, Survival, Freeze Tag, Clan Arena and Elder Soul (a reinterpretation of the "Terminator" game mode). However, the game is also PvE compatible; players can play solo or as a party through almost any compatible Megawad (including the official Doom campaigns) and tailor-made Invasion maps.
QC:DE comes packaged with several monster sets, which the player can enable/disable at their leisure to replace existing enemies spawned on any given map with those from Doom II (the default set), Quake IV, Quake, Quake II and Doom (2016). Additional, community-made monster sets are also available for players to download, incorporating enemy rosters from the likes of Half-Life, Marathon and Heretic, to sets that don't even have a representative fighter, such as System Shock and Chex Quest.
The latest official release of the mod can be downloaded from ModDB
, with a 3.0 beta available for download from the official QZandronum website
and ModDB
. A full rundown of the Champions, their abilities and character-specific tropes can be found in the Characters page.
Trailers
---
This game shows examples of note
Equipment Upgrade: In PvE, all of the weapons barring the Machinegun and Nailgun can be upgraded by collecting modules dropped by the enemies. Much like champion abilities, these upgrades fall under Passive note and Active note categories, with each weapon able to attain one upgrade of each type (excluding the Gauntlet, which possesses two passive upgrades):

Gauntlet

Burning Gauntlet (Passive): Hitting a target creates embers at the point of impact, dealing additional damage to enemies passing through them.
Omnislash (Passive): While spinning, the gauntlet generates short-range slashes which can damage adjacent enemies, regardless of whether the gauntlet is directly striking them or not.

Heavy Machinegun

Ricochet Shots (Passive): Shots will ricochet off enemies, walls and other map geometry, dealing additional damage.
Penetration (Active): Bullets fired while scoped will pierce enemies, with the first enemy struck receiving increased damage.

Shotgun

Longer Barrel (Passive): Drastically reduces pellet spread, increasing overall accuracy.
Surface Explosive (Active): When engaged, the shotgun fires slower-moving pellets with unique damage properties depending on what they hit; impacting enemies offers only a slight damage increase compared to standard shells, while striking environmental surfaces causes each pellet to explode, dealing considerably increased damage in a short radius.

Super Shotgun

Demanufacture (Passive): Doubles the Super Shotgun's rate of fire, matching that of the standard Shotgun.
Dragon's Breath (Active): When active, the Super Shotgun fires a wave of fire as opposed to pellets. These flame particles will penetrate through enemies and deal damage for each tick they remain in contact with, but quickly dissipate after firing, placing a hard cap on the Super Shotgun's range.

Super Nailgun

Lava Nails (Passive): Fired nails deal extra damage and leave burning embers on impact, dealing additional damage to enemies passing through them.
Homing Nails (Active): When active, in exchange for a decreased rate of fire, nails lock onto enemies and seek them out over any distance.

Tri-Bolt

Stable Gunpowder (Passive): The 1-second timed charge for fired bolts only activates when embedding into a surface instead of immediately after firing, massively increasing the Tri-Bolt's effective range.
Bouncy Shell (Active): When active, fired bolts will bounce off of walls/surfaces and detonate when striking an enemy or automatically after a few seconds, effectively turning the Tri-Bolt into the Grenade Launchers it succeeded. Additionally, Bouncy Shell bolts travel in a steeper arc and deal more damage than standard bolts.

Rocket Launcher

Cluster Munitions (Passive): Upon rocket detonation, four additional micro-missiles are dispersed in each cardinal direction from the point of impact and will home in on the closest enemy in the line of sight of the initial detonation.
Controlled Rocket (Active): When active, fired rockets become player-guided missiles with limited steering capabilities, switching the player's perspective to that of the fired rocket. In addition to impacting enemies or the environment, controlled rockets can be detonated manually by pressing primary fire or automatically after 30 seconds of uninterrupted flight. Controlled rockets also deal increased base damage and reduced self-damage.

Lightning Gun

Residual Charge (Passive): Upon releasing the primary fire button after 1 second of continuous fire, the weapon leaves a residual electrical charge at the last point of impact. For its short lifespan, this charge fires lightly damaging bolts of electricity at nearby enemies in a medium radius.
Static Field (Active): When active, continuously firing the weapon creates an electrical field at the point of impact, damaging all enemies in a small radius around itself.

Railgun

Demolisher Slugs (Passive): When fired, the Railgun fires a secondary beam at a short, hard-capped range that majorly damages enemies in a considerably wide radius from the primary slug. The secondary beam can also penetrate through environmental geometry such as walls and floors.
Overcharged Slugs (Active): While zoomed, fired slugs will explode upon hitting a surface, dealing considerable damage in a short radius around the point of impact.

BFG10K

Fission Intensifies (Passive): Mimicking the Classic Doom BFG, when a BFG projectile detonates, invisible hitscan tracers are fired from the player's position into any enemy within their field of view. Enemies struck by these tracers produce green electrical sparks. The BFG now the same applies additional sparks on enemies within the user's field of view for additional damage.
Argent Capacitor (Active): When active, holding down primary fire causes the weapon to begin charging up a single, powerful shot at the expense of additional BFG cells. The charged projectile's damage and cell consumption scale with its charging time, with a fully-charged shot taking 6 seconds to charge and 6 cells to fire.

Exploding Barrels: As in every Doom game( mod).
Hero Shooter: Characters in the game come in three weight classes: Light (small hitbox, low stack, and fast), Medium (standard hitbox, medium stack, medium speed) and Heavy (Big hitbox, large stack, slower movement). They also have differentiating active and passive abilities affecting how each hero interacts in the game. Some characters even go a bit further and bring their own, iconic weapons as their Active Ability.
Hyperspace Arsenal: The usual for a game based on having multiple weapons at the same time, but Doom Slayer, Duke Nukem, B.J. Blazkowicz, Painkiller, Caleb, Postal Dude & Sam take it up to eleven with their additions to the game's arsenal.
Loot Boxes: QC:DE semi-jokingly implements lootboxes into PvE, rewarded for killing all enemies and finding all secrets within a map. However, instead of rewarding players with champion cosmetics and weapon skins, QC:DE's lootboxes instead reward players with resources, powerups, upgrades and other exclusive buffs with short- & long-term benefits. Lootbox rewards are distributed under the same Backpack/Chest/Reliquary rarity system used in vanilla Quake Champions.
---