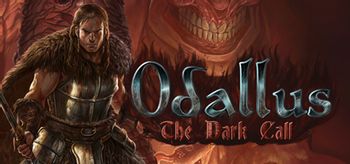 Odallus: The Dark Call is an Action-Adventure Platform Game developed by Joymasher, makers of Oniken. The game was released on 15 July 2015 on Steam and GOG.com. It was developed in Clickteam's Multimedia Fusion 2, with Joymasher planning to migrate to Unity to make use of its advantages.
Set in a medieval world that has been abandoned by its gods, it became infested by grotesque demons when darkness spread and began collecting human souls for its army. The game follows Haggis, a retired warrior who must wield his sword once more to search for his lost son, and solve the mystery of the Odallus stone to bring an end to those who are at the helm of this madness.
Odallus is a classic exploration/action game, inspired by Ghosts 'n Goblins, Demon's Crest, and Castlevania. The game is divided in 4 top stages, 4 bottom ones and a final stage. It is necessary to thoroughly explore the hellish landscapes in order to find the secrets and abilities needed to progress further.
A Sega Genesis remake has been announced
.
---
The game provides examples of:
---